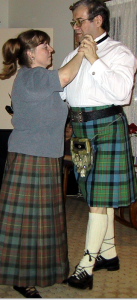 Now a fund raiser for the Mad River Valley Community Fund... Moved to Thursday September 8th at the West Hill House Handsome Red Barn
Traditional Scottish Country Dancing, which runs the gamut from fast and furious to slow and stately, is the norm at Scottish weddings, family reunions and  modern cèilidhs (pronounced kay-lees). Children learn these dances from an early age and many schools, clubs, small towns, and pubs have regular cèilighs where everyone joins in the dancing.
Dances such as the "Gay Gordons",  "Walls of Limerick" and  "The Stack of Barley" are dances which are named after famous regiments, historical battles and every day items. Other dances have more intriguing names such as the "Canadian Barn Dance", "Eightsome Reel", and "The Dashing White Sergeant".
Celebrating the Scottish heritage of the MacLaren family,  Peter encouraged me to join a Scottish Country Dance group in Edmonton shortly after  we were married. Each week we would learn a new dance and enjoy dancing to the ones we previously learned.
The dance lessons have come in handy each January  as dancing is an integral part of any Burns Supper. A Burns Supper is a gathering to celebrate the birth of Scottish poet Robert Burns. An important date to Scots around the world, this event embraces Scottish food, poetry, libations and dance.
To prepare for our upcoming Burns Supper (January 28, 2012) – as well as just for some fun – we are opening our Handsome Red Barn for Scottish Country Dance lessons. We are going to teach very simple dances and we invite you to join us on:
Wednesday evening, September 7th
From 7:00 to 9:00PM
Was $5 per person, now $10 and 100% of the proceeds go to the Mad River Valley Community Fund
Advance tickets required as space is limited.
Come on your own or with a friend.  Refreshments. Wear flat shoes. Other Scottish Country Dance evenings are scheduled through out the year.