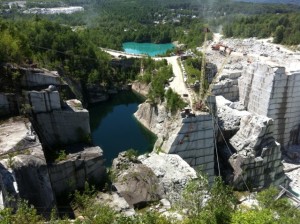 Both of these attractions are well worth a visit when you stay at West Hill House.
The 600 ft deep Rock of Ages granite quarry in nearby Barre is a favorite destination for our guests. It is reputed to be the largest such quarry in the world. With the scale of the geological formation it is estimated that at current production rates there is enough granite for 4,000 years!  There is a Vistors' Center where you can learn all about the quarry, the factory where you can see how monuments are carved, and of course the tour of the quarry itself which leaves every 45 minutes or so. Check out some photos in our photo album on Facebook.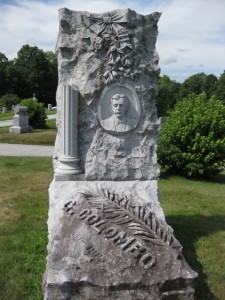 The granite is on display in its finished form as beautiful monuments in nearby Hope Cemetery. This cemetery in Barre is an unusual tourist attraction but please do not pass this up – it doesn't sound like a great side trip, but it is.
Many grave monuments were carved for their own family members by stonemasons, who worked at the Rock of Ages Quarry.  Find the soccer ball, the biplane, the eighteen-wheeler, the stock car, and the cube on one of its points. There are family portraits including a husband and wife sitting up in bed and lots of intricately carved floral arrangements. Have a look at our photo album on Facebook.
The Quarry and Hope Cemetery are about 40 minutes from the B&B. The cemetery is open year round and the quarry is open from late May till mid October. A visit to the State Capital of Montpelier, the smallest State Capital in the US, is easily included in the day's outing and is also well worth a visit.