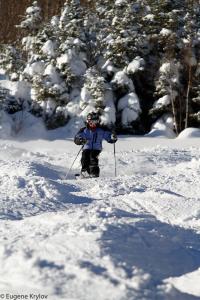 For the 2011-12 Ski Season we are once again offering our guests great prices AND flexibility for skiing at Sugarbush – immediately adjacent to the B&B with door-to-door shuttle service, Mad River Glen – a few minutes drive away, and the option to also ski on Olé's Cross Country Ski trails just down the road from the B&B.
Ski & Stay "Passport*" packages for Sugarbush & Mad River Glen start at $110 per person per day, plus tax (2-night minimum weekdays, 3-night minimum weekends) and we'll be pleased to customize a package with your choice of room and days of skiing.
The best value packages are:
4-day inclusive weekday package including Ski the Valley "Passports*" for two for 4 consecutive week-days of skiing and 4 week-nights of B&B
3-day inclusive weekend package including Ski the Valley "Passports*" for two for 3 days & nights.
Pricing for both packages, including taxes, is just:
Queen Room Package: $899
King Room Package: $999
Suite Package: $1,049
Our King Room ensuite bathrooms have double Jacuzzi tubs.
You can add another weekday day (or more) at Mad River Glen to any package for just $35 per person per day if you stay an extra night at our regular rates. The Lincoln Peak base at Sugarbush is just two minutes away by free shuttle bus from our front door and you can come back anytime during the day.
*The Passport also includes skiing at Ole's cross country resort, and specials and freebies at some restaurants and stores.
Check our Winter Activities page for more information on a winter holiday at West HIll House.
Offers are good for one pair of ski tickets per night stayed. Note ski conditions cannot be guaranteed! (The packages are not available on Presidents Week, and weekend packages require a minimum of 3 days & nights. Note that 7 days advance notice is required for all Ski the Valley passport packages.)
Photo credit Sugarbush and EKrylov.