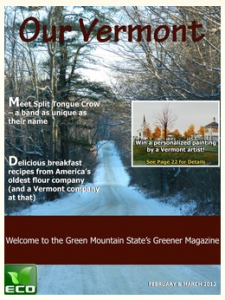 Our Vermont,  is the new Green Mountain State's Greener Magazine, and features articles about people, places, events, food, and local flavor offered in the great state of Vermont. Not only is this a paperless magazine, and you can subscribe for free on line, but they chose a 100% wind powered company to do their hosting.
Lucky us, West Hill House B&B has a featured ad in the magazine's inaugural edition. Check us out on page 2-3, the full-screen option, and accept our invitation to come to Vermont to sample the wonders of our amazing state. West Hill House is a 'Green Hotel in the Green Mountain State'. We offer Ski & Stay Packages. If you and your sweetie need a little pampering check out our Valentine's Day special. Perhaps a proposal is in your future …let us help you make that a memorable event.
West Hill House B&B is where you'll want to B&B.