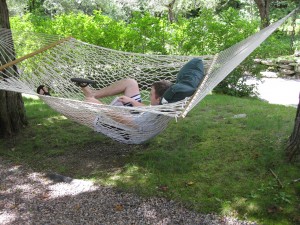 Does adventure mean exploring quiet back roads, hiking beautiful forested trails, jumping into cool river swimming holes, kayaking down splashing rivers or  sailing on pristine lakes?
Would you get a thrill out of soaring over the hilltops in a glider? Does the thrill of the hunt mean looking for treasures at antique shops and purchasing produce at  farmers' markets?
Do you enjoy the excitement of country fairs? Are you fascinated watching artisans at work?
Do you search for enticing shops in quaint villages?
Does relaxation at the end of the day mean enjoying the hospitality of a bed and breakfast?
Are you a fan of opera, art exhibits, five-star dining or quick lunches in little cafés?
Want to add to your birding list?
Does relaxation mean contemplating life while sitting in a beautiful garden or gently swaying in a hammock?
Answer "Yes" to any of these questions and you may not know it, but you've already fallen in love with Vermont. All this and more is part of our way if life in the magnificent state of Vermont.
Whether your summer takes you to Bennington in the south, Warren and Sugarbush in the Mad River Valley in the center of the state or to the spectacular scenery of the Northeast Kingdom, we invite you to come to Vermont for romance, relaxation and recreation. Vermont has it all – see you soon.

Summer fun on the Winooski River