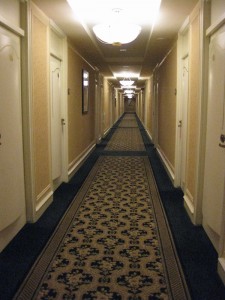 So we were on our way to Cape Cod for the New England PAII conference and decided to break the trip with the night at one of Boston's luxury downtown hotels. The entrance was grand, the staff was friendly, the room spacious and a nice treat for us but my gosh, I do believe that a B&B is a Better Way to Stay.
We were serenaded to sleep (not) with the sound of roaring traffic along with police and firetruck sirens oh and a couple of 'rice racers' trying out downtown streets. Boston night traffic seems to calm down about 3AM and start up again around 5AM so not much sleep to be had – and we were more than 12 floors above street level.
I know life in the big city is expensive – if we weren't blown away by the $12.50 per device charge to connect with the internet, and the $25 per person buffet breakfast (which we opted not to indulge in) we just about had to pick our jaws up off the floor and mortgage the farm to pay the $46 per night valet parking, which we were informed about only at check out! (Valet parking was the only option if you had a car.) Do we not get out enough or does something not seem quite right?
A Better Way to Stay? You bet…We encourage anyone from Boston, New York, Hartford, Toronto or any other big city to come enjoy the peace and serenity of West Hill House. Quiet nights (unless you count the peepers down by the pond), free phone calls and internet, free parking even if you are here for an event and we have valet parking, and our hallways don't disappear into a vanishing point. Oh and of course, breakfast is included!
Need a break from the hectic life of the city? The Rx is a trip to Vermont.