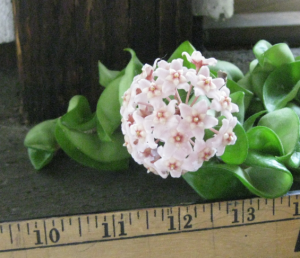 About 30 years ago we purchased an Indian Rope plant and this hardy little plant has traveled with us on our numerous moves. Always adapting very well to its new environment this plant asks nothing more of us than water, tlc and from time-to-time, a bigger pot.
While green for most of the time, every so often it surprises us by bursting into clusters of waxy pink flowers. The flowers in each cluster are quite small though the cluster of flowers is a fair size.
Those of you who have visited West Hill House may remember our fig tree. This tough little guy was also purchased 30 years ago and continues to thrive.
When we moved from Texas to Vermont to the B&B, the fig tree, the Indian Rope plant and three African Violets shared the front seat of my car! And, since the move took place in the winter, we had to ask the B&B owners with whom we stayed on our journey, not if they took pets but if they took plants because it was too cold to leave them in the car overnight. Happily all B&B owners said yes and the plants arrived safely at their new Vermont home.