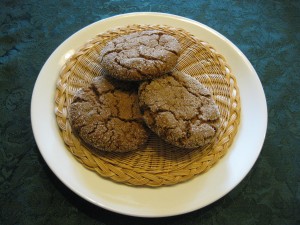 Stirring it up! Ginger Cookies. While cleaning rooms the other day I clicked on the TV and found The Barefoot Contessa featuring a batch of the Ultimate Ginger Cookie. They looked absolutely scrumptious so after finishing the rooms I cleaned up and headed off to the kitchen to cook up a batch for our weekend guests. Unfortunately I didn't have all the ingredients called for in that recipe so I made my own version of ginger cookies.
Ingredients:
2 1/4 c. all purpose flour (I use King Arthur Flour)
1 t. baking soda
2 t. ground cinnamon
1 1/2 t. ground cloves
1/2 t. nutmeg ( I grate nutmeg so just eyeballed the quantity)
1/2 t.  ground ginger (I used a tiny bit more than this 😉)
1/4 t. fleur de sel
1 c. light brown sugar, lightly packed
1/4 c. canola oil
1/3 c. unsulfured molasses
1 large egg
1/3 c. to 1/2 c. finely chopped crystalized ginger
1/2 c. raisins (optional)
1/3 c. granulated sugar for rolling cookies in before baking
Preparation:
Set the oven to 350°F. The cookies will bake for about 12-14 minutes. I made 22 cookies.
Put the first 7 ingredients into a large bowl and set it aside.
In the bowl of an electric mixer, mix on low speed, the brown sugar, canola oil and unsulfured molasses. Note that the dough is fairly stiff so I don't recommend using a hand mixer nor mixing by hand unless you also lift weights!
With the mixer still on low speed, add the egg, mix for about 1 minute and scrape the sides of the bowl – remember to stop the mixer first.
Without adjusting the mixer speed, very gradually add the dry ingredients from the first bowl. If the mixer is going too fast you will find yourself and the mixer covered in a fine white dusting of flour!
Increase speed and mix on medium speed for about 2 minutes.
Add the crystalized ginger and raisins (optional) and mix until incorporated.
Make dough balls about 1 T. in size and roll in the reserved 1/3 cup of sugar.
Place the sugar coated dough balls on a parchment lined jelly-roll pan and flatten slightly with your fingers.

Bake until the cookies are crackled on top but still soft to the touch.

Cool cookies on the pan for a few minutes then transfer to a cooling rack to complete cooling. 
These freeze well if they aren't all eaten first!
Dishing it out!  
As the leaves fall from the trees and autumn weather sets in, baking takes a turn towards the foods and spices that give us that warm and cozy feeling. Ginger cookies, butternut squash soup, pumpkin pie, creamy tomato soup and grilled cheese sandwiches,  _____________ fill in the blank with your favourites. Two of my favourite spices at this time of year are ginger and cardamom. Yes, these two spices are related as cardamom is in the ginger family. Ever tried ginger pancakes with a large dollop of luscious whipped cream and some real maple syrup? 😋
Of course ginger is good any time of year.
One sunny summer day, my dad and I decided to take a drive along a nearby lake. We stopped off first at the grocery store for sustenance for the journey. While I choose a well aged cheddar cheese, my dad went off to find crackers, or so I thought. Back he came with a box of gingersnaps. As a ginger lover I didn't mind this at all. Supplied with these items and a thermos of hot tea from home, we set off on our adventure. This was the day that I learned that good cheddar cheese and crunchy gingersnaps were perfect partners.
While these ginger cookies are soft, they are still pretty darn good with a cup of tea and a cube of strong cheddar cheese.
Enjoy!