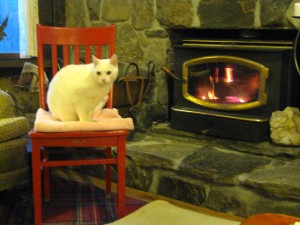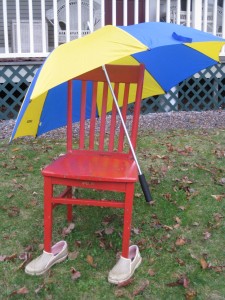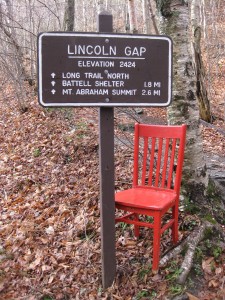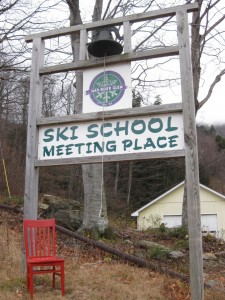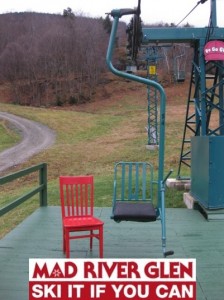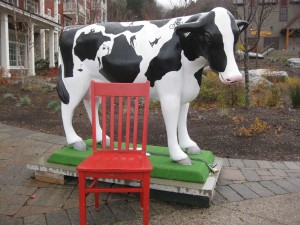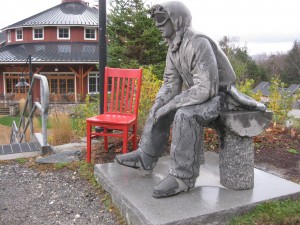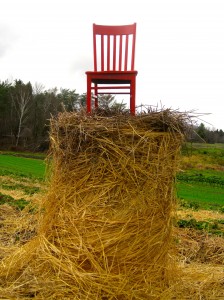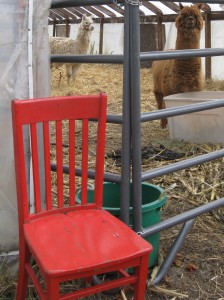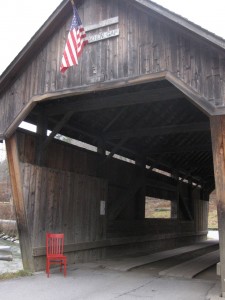 Hi everyone, I'm the Red Chair that has been traveling throughout New England for the past several months.
I arrived at West Hill House B&B in the aftermath of Hurricane Sandy and rain was the order of the day. Fortunately my hosts offered rain boots and an umbrella so I stayed pretty dry. Inside I was given a place by the fire to warm up a bit even had a pussy cat come curl up with me for a bit.
Once the weather cleared my first stop was at the top of the Lincoln Gap Road, the highest road pass in Vermont, where I set foot, or should that be feet, on the Long Trail. The air was so fresh I'm felt I could have walked the full 273 miles of the trail but I had places to go and things to see.
With winter just around the corner I wanted to be introduced to the Mad River Glen ski area. I checked out the ski school meeting place then of course had to have my photo taken with the single chair.
From there we went to Sugarbush where I had my photo taken with a local cow before going  to sit beside the year 'round skier. He didn't say much, we just enjoyed the solitude of the moment.
I visited the Hartshorn Farm and hey, for fresh food, maple syrup from their own trees and hay, head to their farm stand. And speaking of stand – look at me standing atop a huge bale of hay!
With my feet firmly back on the ground I posed with some squash then climbed up on the wall to sit with the boxes of pumpkins for a while.
My legs were getting a bit cramped so I hopped down and headed over to visit with the alpacas, The Finkles,  who didn't seem to mind my company.  I certainly did not expect to see alpacas in Vermont!
A stop to pose in front of the Warren Covered Bridge that spans the Mad River then back to my temporary home at the West Hill House B&B and ready for a warm cup of hot chocolate and a little cake.
Wow, have I had fun! I can't wait for my next adventure! Tomorrow I am off across the Green Mountains to visit Middlebury, Vermont – I wonder what adventures await me there.