Peter is from Glasgow and this soufflé recipe is from his mum. Susan evolved it into a West Hill House B&B favorite.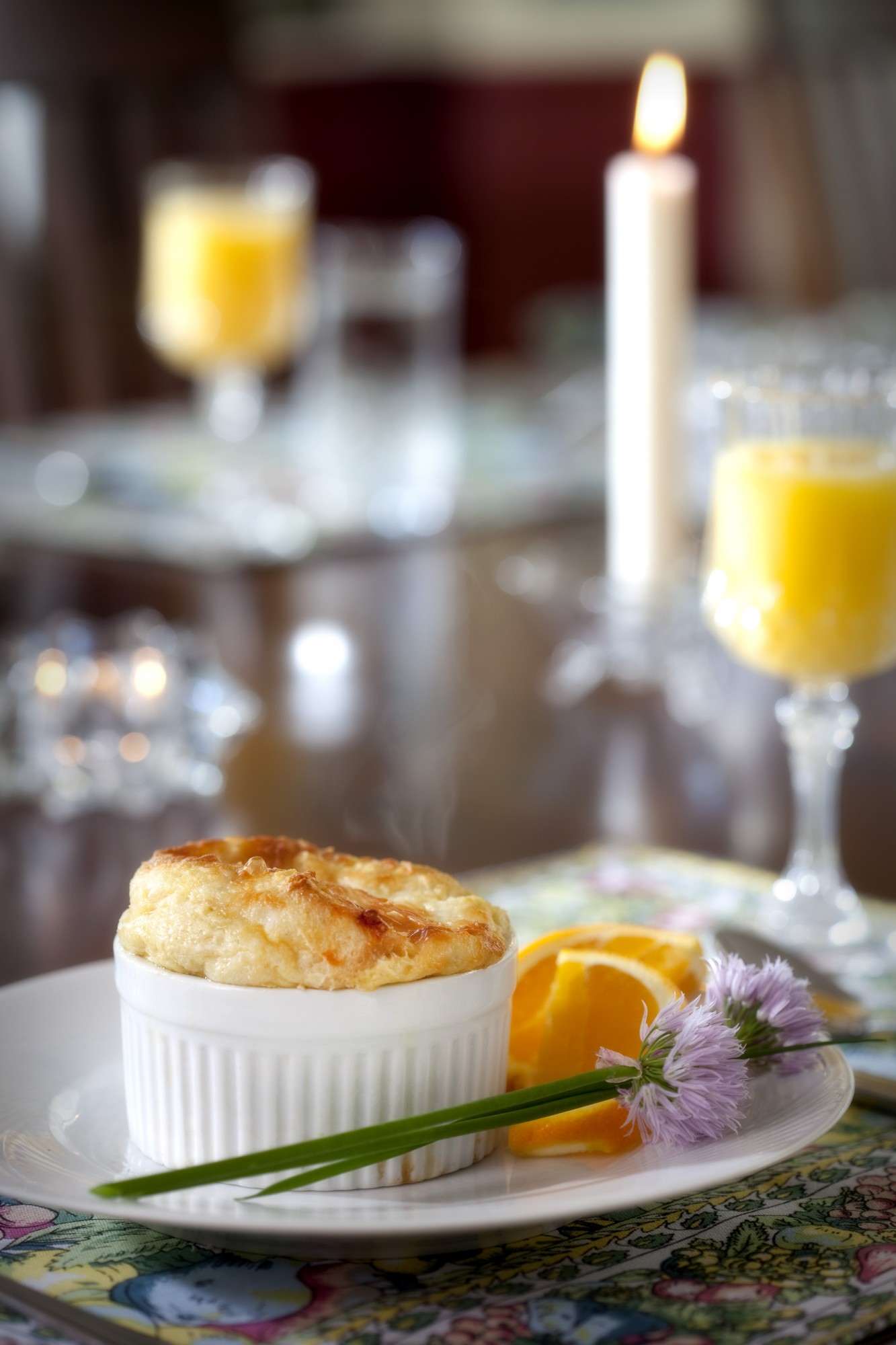 Serves 4-5   Oven 350°F     30 to 40 minutes
Ingredients:
3 slices sandwich bread white or whole wheat, buttered
3 slices sandwich bread white or whole wheat cubed approx. ¾"
1 c. grated cheddar cheese
¼ c. grated cheddar cheese
¾ cup Major Gray chutney
3 eggs, beaten
2 c. whole or 2% milk
1 t. yellow mustard
1 ½ oz Drambuie
1 T. minced onion dry flakes  or ½ small onion finely chopped
½ t. salt
¼ t. pepper
Method:
Preheat the oven to 350°F. Grease a 9"x7" Pyrex baking pan or 4 or 5, 4" diameter ramekins.
Fit the bread, butter side down, into the pan – it's ok to cut pieces to fit. (If using ramekins cut bread round to fit into the bottom of the ramekin and you may need more slices of buttered bread.)
Spread the chutney over the bread cutting any large pieces of fruit into small pieces. Sprinkle the onion over the chutney. Sprinkle the 1 cup of cheese over the chutney. Toss the cubed bread over the top so that it is evenly distributed.
In a medium sized bowl beat the eggs then add the milk, Drambuie and mustard and mix well. Pour this mixture over the cubed bread being sure that some liquid goes on each piece of bread. Sprinkle the remaining ¼ c. cheese over the top.
At this point you may either cover the pan and refrigerate it overnight or let it sit for 20 minutes to be sure the bread has had time to soak in the milk mixture. There will still be liquid in the pan, which will turn into a nice custardy mix once cooked.
Bake at 350°F for 30 to 40 minutes or until the center is firm and the top is golden. Serve hot.