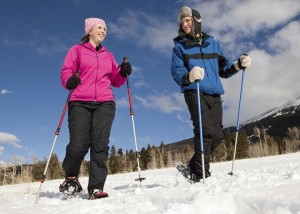 There's nothing wrong with skiing, sledding, or taking the car out for a literal spin on the ice (okay – maybe there is something wrong with that last, there) but sometimes you may find yourself craving something a little slower and more nature-intimate in your outdoor, wintertime activities – in that instance, may we recommend snowshoeing Mad River Valley?
Little more than a mode of winter transportation for thousands of years, snowshoeing has evolved into a popular winter activity. More flexible than skiing, as it allows you to go where a pair of skis cannot, snowshoeing extends the hiking season as a good, low-impact, aerobic workout. Snowshoeing is easy enough for all ages and can be used as a social occasion or as a solitary get-away.
While we have snowshoes right here for you to borrow to explore the area around the B&B, when it comes to snowshoeing tours in the Mad River Valley, we like Clearwater Sports.
Clearwater Sports' guides are experienced enough with the area to give you that real, backwoods experience. Taking you through unmarked and off-the-trail areas, the guides at Clearwater Sports allow you to choose the level of difficulty you want to experience. Well acquainted with the natural world, these guides are able to provide plenty of naturalist and animal tracking lore during your excursion, adding a whole other level of excitement to your trip!
Clearwater sports offers a number of snowshoe tours to fit your budget and interests, including a full-moon dinner tour and a few with the famous (or infamous, depending on how you look at it) Mad River Rocket sled, invented right here in Warren, Vermont! Combine the more contemplative pastime of snowshoeing with the excitement of flying down a snowy slope in a rocket sled strapped to you: it's the best of both worlds!
Clearwater Sports Snowshoeing Tours
For more information, please visit: www.clearwatersports.com
Mad River Valley Bed and Breakfast
After a fun day's tussle in the snow, what could possibly be more inviting than a stay at our Mad River Valley B&B? For that matter, before an invigorating day of playing outdoors in the snow, what could more prepare you than a nice, hot breakfast served up by your Mad River Valley innkeeper? Ooh! I can answer that: nothing! Complete your winter trip to Vermont by booking a stay at West Hill House B&B in Warren, VT. We have nine private, unique and comfortable guest rooms all turned down and ready for you. See you soon!