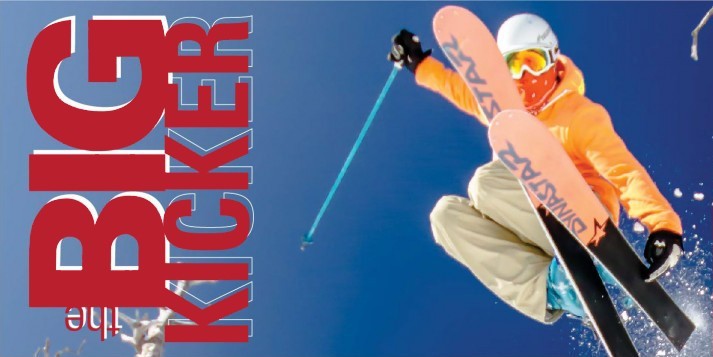 Mad River Glen and Sugarbush Resort, two great, local ski and ride areas – and two of the best on the East Coast, period – are hosting an event to kick off the 2014/15 Mad River Valley ski season on November 22!
The Big Kicker's co-hosts – Mad River Glen and Sugarbush Resort – throw this freestyle party every year to celebrate the beginning of the Mad River Valley ski season.
The event is not to be missed, featuring excellent, local food and drink, live music, rail jams, the screening of ski movies, cool prizes through raffles and giveaways, winter-sport presentations, art and photography exhibits, and special guests like Flyin' Ryan Hawks and the good folks at The High Fives Foundation.
The Mad River Valley ski season gets such a big send off every year not only because of the resorts and the incredible skiing and riding they provide but also because the winter-sports community in Vermont's Mad River Valley is such a special and passionate one. If you've ever been here during winter, you already know this because you just about can't miss it. After all, one of the reasons it's called the Mad River Valley is because we're all so mad about skiing (okay, okay: I made that up – but it could be true!).
The Big Kicker kicks off at 5pm at its new location this year in Waitsfield at American Flatbread. Be there or be square.
THE BIG KICKER
November 22, 2014 – 5pm
American Flatbread
46 Lareau Rd
Waitsfield, VT
Mad River Valley Skiing and Lodging Specials
As you may also have guessed, we here at West Hill House B&B are also big winter-sports enthusiasts and we just love spreading the bug to our guests. How do we do that? By offering our Ski & Stay Passports, of course!
Our Ski & Stay Passports are a winning combination of great prices on multi-day, inclusive Mad River Valley lodging and skiing packages at such ski areas as Mad River Glen, Sugarbush, and Olé's Cross-Country Center. You can read more about our Ski & Stay Passports by clicking here.
See you soon!