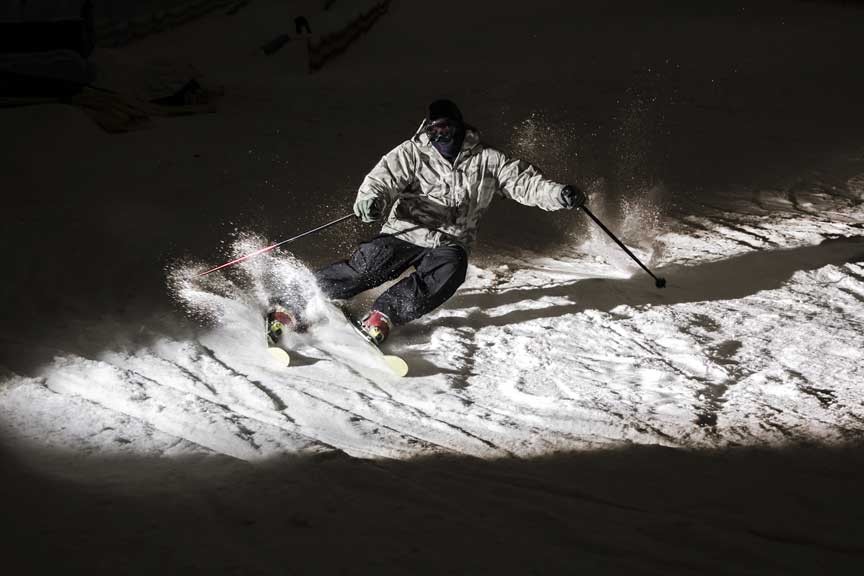 What do snowshoeing, skiing, Mad River Valley's Sugarbush resort, and winter's beautiful, moon-lit, night sky have in common? Tour de Moon, of course!
Tour De Moon is the brainchild of Sugarbush resort and involves a snowshoe hike up Mount Ellen to Glen House – the mid-mountain lodge – for a hearty, skier's drinks and dinner, then strap on the skis and glide back down the mountain – and all of it under the beautiful, warm glow of winter's full moon!
These rare treks are specially scheduled to coincide as closely as possible to the full moon and, with weather conditions participating, this means the snow fields will be startlingly bright and clear for your nighttime descent. You haven't lived until you've skied at night with just the moon and a headlamp to guide you; the powder sparkling under Luna's soft glow, silence broken only by the sound of your breath and your skis cutting through the track. Truly magical.
Due to the moon's limited, orbital engagements with full-glow, Sugarbush's Tour de Moon occurs only once a month and only during ski season – making Tour de Moon a rare opportunity and, thus, advanced reservations are required. You won't need your own equipment if you haven't got it – Sugarbush is happy to rent you what you need – but you will need to be able to carry all the equipment you hope to use both up and down Mount Ellen. A small price to pay for such an engaging experience.
Tour de Moon
January 17th, February 14th, March 14th
$60 includes guide and dinner
Meet at 4:30-5pm at Mount Ellen base lodge.
www.sugarbush.com
Mad River Valley Lodging and Skiing
West Hill House B&B is a big winter-sports booster. About the only thing we enjoy more than winter sports is helping our guests enjoy them – and that's our Ski & Stay Passports to a "T!"
West Hill House B&B Ski & Stay Passports combine great prices on multi-day, inclusive lodging and skiing packages at Mad River Valley ski areas like Sugarbush, Mad River Glen, and Olé's Cross-Country Center. Read more about our Ski & Stay Passports by clicking here.