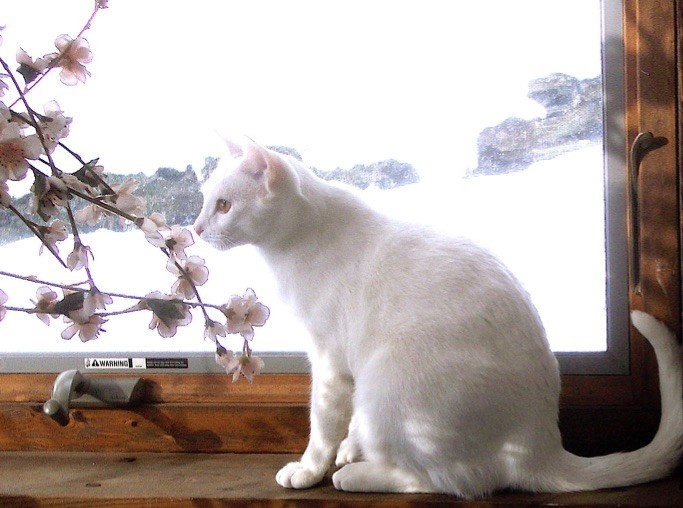 I'm Snowball, CPO, that's Chief Purr Officer, I'm in charge of Purrs and Snuggles here at West Hill House B&B. You'll meet my brother, Smoky, another day, but today is my day to shine. First a little history about us. My brother and I were born on the Turner's farm, Simplicity Farm, just a bit north of where we live today.
Our mom was beautiful, she was pure white with one blue eye and one green eye. I look a lot like her except for my eyes, they are both a lovely shade of green, the color of  an old copper roof. Our mom looked after us when we were very tiny and when we got a bit older she was soon off on her own adventures around the farm and we were moved into the farm house where we learned about litter boxes and eating from a bowl. We mastered both of these new challenges with flying colors by the way.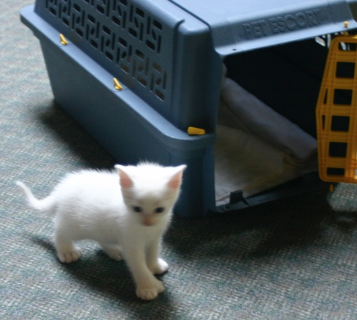 I knew we were off on adventures of our own when Susan and Peter came to pick us up and take us home with them. We were so little that we fit into the palm of their hands. We felt warm and happy there and we let them know with our purrs. The ride home was a bit strange as we were put into a carrier and strapped into the back seat of the car. We were safe though because the carrier didn't move a bit and the nice clean towel we sat on was quite snuggly.
When I started to explore on my new home, I was a bit wobbly on my feet, maybe because I have so many extra toes, somehow I kept tripping over my feet and sometimes I just needed to go  into my basket and do some kitty yoga to relax.
I like to do a lot of things like chasing light around the room, climbing on chairs, and of course rolling around on the red rugs and leaving as much white fur on them as possible!
You see, because I'm deaf it does not bother me that the vacuum is not far behind me making a big noise as it is clearing up my mess! One of my most favorite activities, well, perhaps not exactly an activity, anyway, I love to take cat naps. I have experimented with several different beds,  here are some recommended and some not so much.
| | |
| --- | --- |
| A colander, while just the right size tends to be a bit drafty underneath. | An egg carton, definitely not recommended; it makes for a lumpy mattress! |
| | |
| An unusual pillow, cat grass, and I don't even like the stuff. | |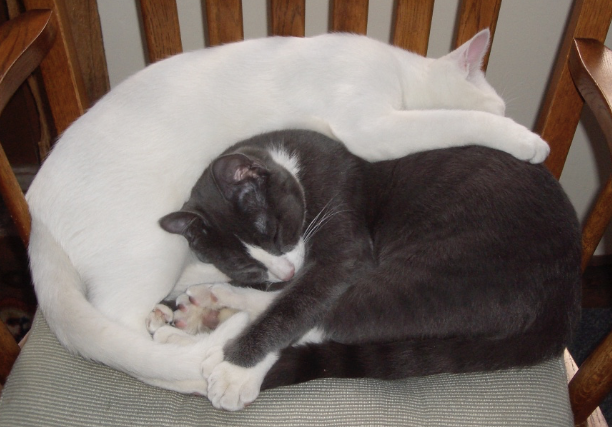 I look forward to having visitors at West Hill House B&B because when I'm up and around I'm always ready for pats and snuggles (on my terms of course) from guests. Please remember that because I can't hear you coming, if you pat me when I'm napping, I'm going to be startled.
Smoky and I are waiting for you, meantime… yawn… I think perhaps a little nap.
Oh, and you know the most wonderful thing about having cat naps?
Whether sleeping alone or with my brother, our humans just let sleeping cats lie!