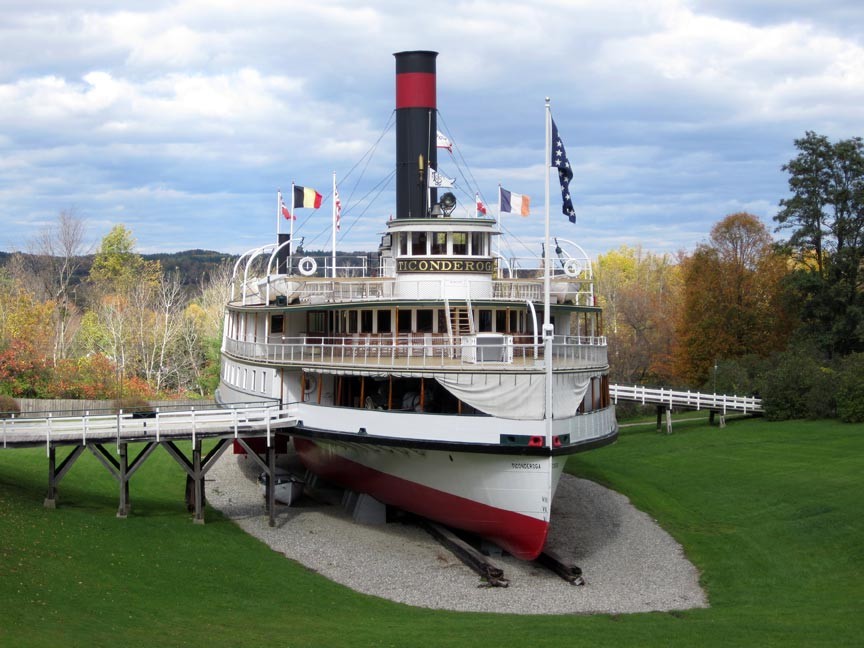 Shelburne Museum, in Vermont's scenic Lake Champlain valley, is one of the most diverse, unconventional, must-see museums in the US, containing over 150,000 works of art and Americana. Even the museum campus is notable: of its 39 buildings, 25 are historic buildings that were relocated to the Museum grounds as part of the collection!
The diverse collection of impressionist paintings, folk art, quilts, carriages, decoys, furniture, American paintings, toys and other 17th-to 20th-century artifacts at Shelburne Museum owe their collective exhibition to Electra Havemeyer Webb (1888-1960).
Webb founded Shelburne Museum in 1947 from her own, pioneering collection of American folk art. Having been raised by serious collectors of European and Asian art, she gained an early, discerning and passionate eye for that which is distinctly American in art, artifacts, and architecture.
As mentioned above, part of the museum collection includes 25, historic, 18th and 19th-century buildings from New England and New York, including: some houses and barns, a general store, a meeting house, a jail, a one-room schoolhouse – even a covered bridge, a lighthouse, and the Ticonderoga – a 220-foot steamboat!
The space inside these historic buildings serve as exhibits and are all displayed in a village-like setting whose landscape includes over 400 lilac bushes, a circular formal garden, and a collection of herb, heirloom vegetable, and perennial gardens. Touches like these are what makes Shelburne Museum an experience both inside and out!
Current exhibits at Shelburne Museum include:
Painting a Nation – major reinstallation of Shelburne Museum's American paintings collection. Apr 26 – Nov 1, 2015
Kodachrome Memory: American Pictures 1972-1990 – the inaugural solo museum exhibition of the photography of Nathan Benn. Jan 24 – May 25, 2015
Walter Wick: Games, Gizmos and Toys in the Attic – This retrospective of the photographic illustrator of the I Spy books will delight both children and adults alike. Mar 28 – Jul 5, 2015
Shelburne Museum
5555 Shelburne Rd. Shelburne, VT
(802) 985-3346
For more information on current exhibits, programs, events and hours be sure to visit: shelburnemuseum.org
Shelburne Museum Lodging
West Hill House B&B in Warren, VT is the perfect choice for your Mad River Valley vacation, whatever shape it may take! With nine individually decorated guest rooms, delicious breakfasts, lush, quiet grounds, and Quaich Single Malt Scotch bar, you'll feel positively spoiled.
Shelburne, VT and the Shelburne Museum are but a lovely 45 minute drive from West Hill House B&B in Warren, VT: From the Mad River Valley take Route 17 from the south end of Waitsfield over the Appalachian Gap to Route 7. Then take Route 7 north to Shelburne. The museum is at the south end of Shelburne on your left.
See you soon!