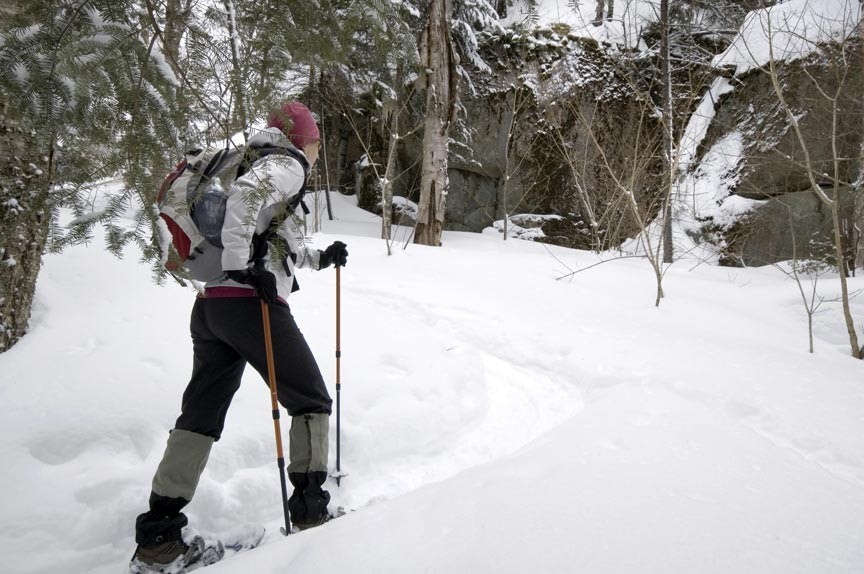 Vermont's Mad River Valley is known for its skiing – Mad River Glen, Sugarbush, Olé's Cross Country, Blueberry Lake, we've got the best – but snowshoeing Mad River Valley is also a popular winter pastime.
Snowshoeing popularity is on the rise, with light, modern, aluminum and carbon fiber snowshoes designed to not just walk atop the snow with more ease than the old, wood and cat-gut kind, but to even run across it! Snowshoeing has come a long way …
And so, too, might you! People come from all over to enjoy the kind of skiing and snowshoeing Mad River Valley offers. Most of our ski resorts offer snowshoeing trails along with skiing and snowboarding, often snowshoeing gear rentals as well.
Ole's Cross Country Ski Center, Sugarbush Resort, Blueberry Lake Cross-Country Ski Center, and Mad River Glen all provide trails for snowshoeing, with both Sugarbush and Mad River Glen also offering guided snowshoeing tours in a number of forms – outback tours, moonlight tours, and more.
Another great option – perhaps the best, if you don't mind our opinion – for snowshoeing Mad River Valley is Clearwater Sports. Clearwater Sports offers rentals and a variety of guided snowshoeing tours: guided backcountry tours, full moon dinner tours, even tours involving the Mad River Valley's own Mad River Rocket Sled! Be sure to visit their site for details: clearwatersports.com
Prefer to go it on your own? Sections of the famous Catamount Trail, should help to get you out into the woods on your snowshoes, among the lovely scenery, wildlife, and contemplative, snowy silence.
We even keep some snowshoes on hand, here at West Hill House B&B, for guests who are interested in exploring the immediate area around our Mad River Valley bed and breakfast – we do border a section of the Catamount Trail, after all!
And speaking of winter in the Mad River Valley, as of this writing, we still have some rooms available for a Christmas Getaway! Come join us for our Country Christmas Dinner Holiday Feast – you'll not find a more pleasant, filling, or better end of the year lodging deal – Happy Holidays!