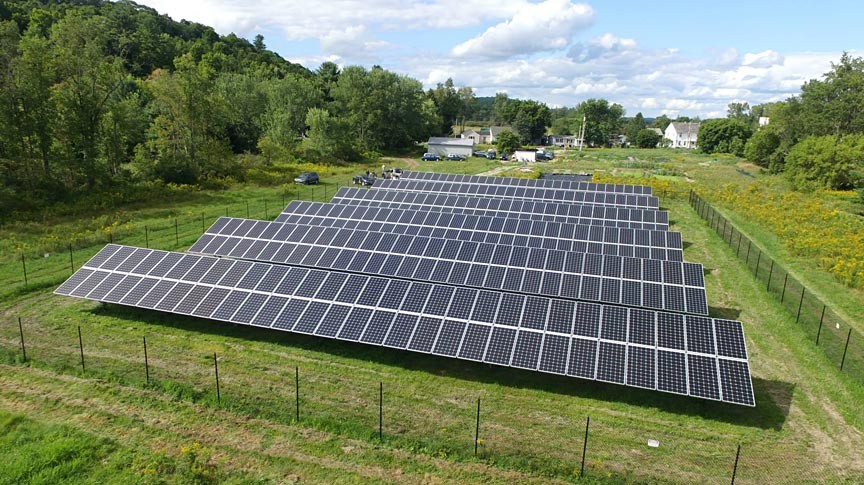 West Hill House B&B is always working towards a smaller, more environmentally sound footprint and, earlier this year, reached a milestone: we now provide our guests with 100% solar-powered lodging!
We're proud to be a part of the Green Mountain State and want to help it not only stay green but get even greener. We've been a certified Green Hotel since 2008, initiating numerous environmental changes to our inn and the way we do business well before being able to offer solar powered lodging.
Being a Green Hotel
Being a Green Hotel means more than just shutting out the lights when you leave a room and we work hard to be comprehensive in our approach. Some of the changes we've made are small steps with big impacts like composting food waste, recycling, and use of CFL's and LED's in place of incandescent bulbs where possible.
Other green initiatives we've taken are larger in scale, like upgrading our water heater with a more efficient, green system, adding a complementary EV charging station for our guests electric cars, and now being the largest single investor in a solar array, allowing us to provide 100% solar-powered lodging.
Solar Powered Hotel
The energy for West Hill House B&B's solar-powered lodging comes from a solar farm known as the Same Sun Solar Society of Poultney, Vermont. The array was designed by Same Sun of Vermont, Inc. and incorporates solar panels manufactured right here in the US – yet another satisfying aspect to this update!
One of the best parts of this latest green upgrade to our inn, though, has to be how it complements our new EV charging station. Imagine how good it will feel, knowing you're traveling through a green state, in a green vehicle, and staying at a green inn which is recharging your electric car – for free – with 100% solar energy. That even felt good to type!
So go ahead, book a stay at West Hill House B&B, and check out the Mad River Valley's only inn with 100% solar-powered lodging!
(If you're interested in any of the other green initiatives we've taken, be sure to visit our Solar Power page or our Environmental Policy Page.)