Serving it up 
Lorne Sausage, also known as Square Sausage, Flat Sausage or Slice Sausage, is a traditional Scottish  food made with beef and pork. It is said to have originated in Lorne, Argyll in Scotland. If you are in Scotland and ask for a full Scottish Breakfast you will more than likely see Lorne Sausage on your plate.
The following recipe is my version using turkey. It has received "thumbs up" from our guests who prefer not to eat beef or pork. See the note below to adapt the recipe when using beef and pork.
Ingredients: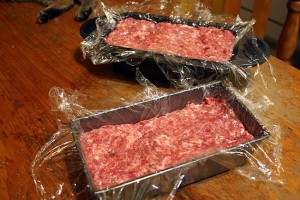 2 lb. ground turkey*
1 1/2 c. Fine Bread Crumbs   (seasoned or not as you prefer)
1 tsp. Pepper
1 tsp. Nutmeg
1 1/2 tsp. Coriander
1 tsp. Salt
3/4 c. of Water
1 Egg lightly beaten
3 T. Maple syrup (optional but yummy)
Method:
Mix really well by hand then place in a wax paper or saran lined oblong pan about 10″ x 4″ x 3″.

Slicing Lorne sausage ready for second freezing.

Fold the wrap over top of the meat and place in the freezer until it's just starting to set.

Remove it from the pan and peel the paper away, it might be a bit sticky.
Cut into slices to the thickness you like.
Separate the slices with wax paper, wrap the whole sliced loaf in waxed paper and put it into a freezer bag and put it back in the freezer.
When required, pop off a slice, defrost and fry it in a little fat or oil until crispy brown and cooked through.
*If you make this using the traditional recipe, instead of using ground turkey, use 1 lb. of ground beef and 1 lb. of ground pork – neither being too lean or the sausage will be dry, a minimum of 20% fat.  You may wish to leave out the egg as these meats will have more moisture than turkey. Recipe can be doubled however use a very large bowl.
Also, use freshly ground meat, not previously frozen the thawed meat. For food safety, the meat should be frozen only once.
I serve this along side half a lightly toasted English muffin or Kaiser roll or on toast and topped with a fried or poached egg. Next time I think I will make it with chicken instead of turkey and see how that turns out.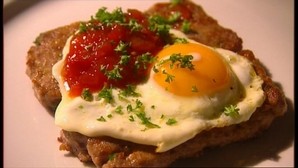 Dishing it out
When we travel in Scotland, if we aren't staying with family, we usually stay at B&Bs as it is a real treat to have someone local give us ideas on any special local events and, have someone else make breakfast for us!  If you are interested in other foods you might find in Scotland, The Taste of Scotland is an interesting resource where you can explore Scottish cuisine,  food producers, and  restauranteurs.
Lorne Sausage for Breakfast
If you have never had a typical Scottish Breakfast, aka 'Fry Up', at a B&B or hotel (if you must!) here is a sample of what you will find on your plate and traditionally it is the same breakfast which is served every day. Ready? Going clockwise: baked beans, parsley (just for show although it is a breath freshener), fried mushrooms, tomatoes -again the basil is just so you can say you had something really healthy, pork sausages, bacon, Lorne sausage or haggis, and tattie (potato) scone. OK, push back from the table now, you'll want to loosen your belt – or maybe reach for something to settle your tummy.
If you keep eating these breakfasts belt loosening won't help, you'll need new clothing. I certainly don't recommend eating like this every day of your Scottish holiday but you need to do this a few times just for the experience!
When we travel in Scotland, after a couple of days of breakfasts like this, we ask for the full breakfast minus whatever we have had enough of previously and often requesting an egg (not fried), scone and Lorne sausage or haggis.
The average Scottish family is not subjected to this high fat diet, thank goodness!  Oatmeal (porridge), breakfast roll with butter and marmalade, some fruit and tea are the main stays of the family breakfast and greatly enjoyed by all.