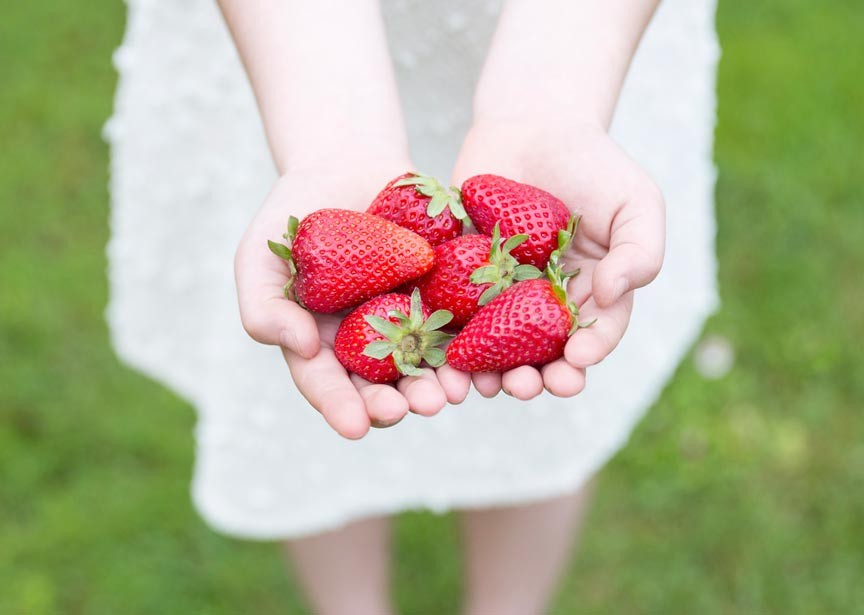 The first annual Mad River Valley Strawberry Festival is almost upon us – scheduled for the weekend of June 18th and 19th, 2016 – featuring strawberry picking, strawberry-themed food an drink, contests, live music, and summer merriment. The entire valley is getting into the act!
The strawberry is one of those unique foods that is both a deliciously sweet treat while being good for you at the same time – no wonder we're giving this humble and delectable red berry its own festival – and you're invited!
The first annual Mad River Valley Strawberry Festival will occur throughout the weekend and the Mad River Valley but will be primarily centered at Hartshorn's Organic Farm in Waitsfield, VT. Hartshorn's will be hosting strawberry picking from their certified organic strawberry fields, fresh strawberry milkshakes, creamees, and strawberry shortcake, maple cotton candy, flatbread pizza from American Flatbread and Pizza Soul, ox cart rides, live music, on-site massages and more!
Elsewhere, the Mad River Valley Strawberry Festival will be celebrated with a variety of contests:
Strawberry Bonnet & Costume Contest
June 18, 11:30am, Waitsfield Farmer's Market
Come see all the outrageous, cute, and creative creations on display when folks dress for (strawberry) success! Prizes will be awarded for Best Berry Bonnet, Sweetest Pet, Most Delicious Baby, and Crowd Favorite. You can even get in on the action, yourself!
Strawberry Poetry and Story Contest
June 18, Waitsfield Farmer's Market
Come hear the winning entries, read aloud by their authors, at the Waitsfield Farmers' Market. With all the local literary talent (and humorists), this should be an entertaining time. Entries are restricted to a length of 200 words or fewer and must be based on a strawberry theme.
Strawberry Dessert Bake-off
June 19, 1pm, Hartshorn's Farm Stand
We're drooling just thinking about it: secret family recipes and house specialties prepared to impress will abound at this contest whose requirements are that the dessert must be made from scratch and strawberries need to be the featured ingredient. Entries will be judged by local chefs and restaurant owners and winners will receive a prize and their recipe will be printed in the local paper, the Valley Reporter.
Strawberry Window Decorating Contest
All Weekend, Around the Valley
Businesses around the valley will be competing for prizes with exciting, funny, creative, and amazing, strawberry-themed window decorations. Festival goers will be able to pick up a map of all the entries so that they can participate by voting for their choice of Crowd Favorite.
So come on out: pick and eat some fresh and delicious organic strawberries, do some dancing, enjoy the fun and hilarity of seasonal, small-town contests, and soak up the warm and welcoming beauty and peace of Vermont's Mad River Valley. We'll be looking for you!
Mad River Valley Strawberry Festival
June 18th and 19th, 2016 – 11am to 4pm both days
Hartshorn's Organic Farm
54 Quarry Road, Waitsfield, VT 05673
A map and schedule of the Strawberry Festival activities can be picked up at Hartshorn's either day or at the Waitsfield Farmers' Market on Saturday.
Strawberry Festival Lodging
As of this writing, West Hill House B&B still has rooms available for the weekend of the Mad River Valley Strawberry Festival – but that wont be true for long! At West Hill House B&B, you'll be treated as personal guests at our amenity-rich, Vermont hideaway. We're located on a quiet country lane but with all the best of the valley – skiing, golf, shopping, dining, sight-seeing – right at your fingertips.
And to mark the occasion of the Festival, Susan will be offering Strawberry Cream Crêpes and Tea at the B&B on Saturday from 2:00 to 4:30PM. While the price $15 per person plus tax, the delicacies will be complimentary for our B&B guests. Can you resist? Book your hideaway, now!