Serving it up:
Biscotti, crunchy and crispy, nothing is a better pick-me-up with a hot beverage. From a google search we learn that though modern biscotti are associated with the Tuscan region of Italy, this popular Italian cookie traces its origins to Roman times. The word biscotto (biscotti is the plural) derives from "bis," Latin for twice, and "coctum" or baked (which became "cotto," or cooked). These Italian treats have become a favorite among North Americans. Easy to make and even easier to eat, this recipe takes no time to put together and after two, twenty minute bakings – buono appetito!
I hand wrote this recipe in the back of a cookbook so I'm not sure of its origin.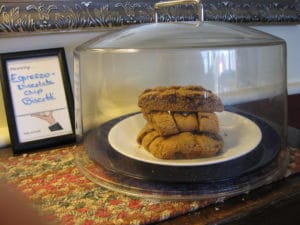 Ingredients:
2T Hot water
2T Instant Espresso coffee
1 c White sugar
3 Eggs
1 t Vanilla
1/3 c Vegetable oil
2 3/4 c  Flour, all purpose (King Arthur is my favorite)
1T Baking powder
1 t Baking soda
1/8 t Salt
1/2 c Chocolate chips
Method:
Set oven to 350°F
Line a jelly roll pan with parchment paper. The sides help keep the dough and parchment from sliding off the pan.
Dissolve the espresso powder in the hot water and set aside to cool.
In a large bowl mix the sugar, eggs, vanilla and oil together.
Add the flour, baking powder, baking soda, and salt.
Mix with a few strokes then add the chocolate chips and mix until the chips are incorporated.
Turn the dough out onto a well floured surface and divide the dough in two.
Adding more flour if needed, roll one half of the dough into a log about 2″ in diameter and shorter than the baking pan.
Repeat with the other half of the dough.
Lift each half onto the baking pan leaving space between then for the dough to spread while baking.
Slightly flatten down the roll.
Bake at 350°F for 20 minutes.
Remove from the oven and cool for 5 minutes.
Carefully lift one of the baked logs onto a cutting board and cut into slices diagonally or straight across.
Replace the cut pieces on the baking pan leaving a little bit of space between the slices.
Repeat the cutting process with the other log and replace it on the pan.
Bake for another 15 to 20 minutes at 350°F or until crunchy.  As ovens differ keep an eye on the baking process.
Cool on a rack and enjoy with your favorite hot beverage – dunking is encouraged!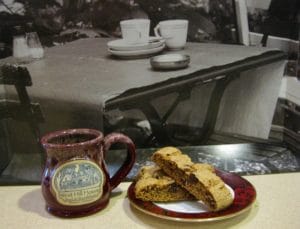 If they last long enough, store in an airtight container. They also freeze well so you can make a couple of batches to have on hand.
Dishing it out:
Years ago when I used to frequent chain coffee shops I loved to see the glass canisters filled with biscotti that were clustered around the cash register. All kinds of biscotti: chocolate, walnut, pumpkin, coconut, chocolate dipped, the varieties seem endless. I always though biscotti was a bit of an exotic baked treat perhaps it was because of the name or maybe because of the price.  And for some reason I felt a bit decadent enjoying a biscotti with my coffee. After making biscotti every couple of weeks for the past eleven years here at West Hill House B&B, I now know that that there is no trick to making this wonderfully crisp and crunchy treat. The only challenge is how to keep the cookie jar full!
I must say, I still feel a bit decadent enjoying a biscotti with my coffee.