How many words can you think of that contain the word moon? 10? 25? 50? More? Well done! An internet search finds over 190 words containing the word moon. Here are but a few…
Moon: The Moon is an astronomical body that orbits planet Earth, being Earth's only permanent natural satellite.
Man-in-the-moon: Although there is said to be a man in the moon whose face is always looking at us, Neil Armstrong was actually the the first man to set foot on the Moon.
Moonstone: n. A variety of feldspar valued as a gem for its pearly translucence.
Moonlight: n. The light reflected from the surface of the moon.
Moonshine: n.Illegally distilled liquor, especially whiskey. Also called regionally white lightning.
Blue Moon: a song written by Rodgers and Hart in 1934 which has become a classic and recorded by many.
Moonwalk: n. A dance step in which the dancer creates the illusion of walking forward while actually sliding back one foot at a time.
Honeymoon: n. The traditional holiday taken by newlyweds to celebrate their marriage in intimacy and seclusion.
Did you include Babymoon in your list? Yes, babymoon. It's not a tiny moon however it is a popular "moon" to be enjoyed by parents-to-be.
Babymoon: n. A relaxing and romantic vacation taken by parents-to-be before their baby is born.
Whereas a honeymoon is a celebration of your new life ahead, a babymoon is a celebration of the old life you're about to leave behind, well hopefully not leaving behind but celebrating the life you are about to bring into to your world.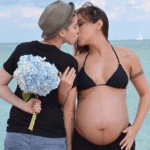 General wisdom says you and your significant other are entitled to a babymoon during each pregnancy. After all, you're about to embark on seemingly months of straight up nighttime feedings (where you may even get a chance to see the moon!), dirty diapers, and crying so you might as well try to get in a little relaxation while you can.

No matter the season, a babymoon should not be the sightseeing adventure of a lifetime rather a chance for the two of you to relax and rekindle your relationship before your baby comes and life changes in ever so many ways. Some babymoon couples head to sea and sand, some to countryside gardens,  and some to the peace of the mountains.
So if it is the fresh air and peaceful mountains you are looking for, Vermont is the place to be. Outstanding bed and breakfasts invite relaxation, additionally many offer Babymoon Specials which may include such treats as a romantic dinner for two, couples' massages with a special prenatal massage for mom, chocolates of course and a small keepsake for baby. Nearby pathways and mountain trails invite walking and our friendly locally owned shops offer everything from hand crafted children's toys and snuggly quilts for the new little one to that something special to remember your trip by.  Especially noteworthy are the excellent restaurants with healthy, locally grown food which is a treat to body and soul.
Therefore, if you are parents-to-be, we invite you to book yourselves a babymoon and relax in beautiful surroundings of West Hill House B&B nestled in the beautiful, peaceful Green Mountains of Vermont.