A beautiful, warm and sunny mid-April day just begs to be enjoyed so, having no overnight guest to attend to, we set out to enjoy the afternoon and view the works of area artisans.
Our afternoon outing started in Middlebury, about 45 minutes from the B&B, where we stopped at the Vermont Coffee Company for coffee and some lunch. The Vermont Coffee Company is a small company that began slow-roasting small batches of coffee in 1979. As they note, "All the coffees we buy are organic and fair trade. While on their own these aren't 'quality standards' they are standards for a higher quality of living for the farmers who grow the coffee." (Open weekdays only, until 2PM.)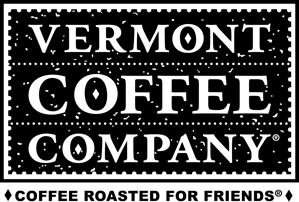 Our guests love the dark roast that we use for our breakfast coffee. Buy Vermont Coffee Company coffee, save the brown paper wrappers and trade them in for some cool stuff – a travel mug? Perhaps, but saving up for a special Vermont Teddy Bear with a "Friends" t-shirt won't take too much longer!
Next stop was Bristol nestled at the foot of the Green Mountains just over the Gap from Warren. The town dates back to 1762. While many of the buildings date from a later time period, the entire downtown is a National Historic District. The town green has been a central part of village life throughout the town's history. The Bristol Band has presented outdoor summer band concerts in the gazebo on the town green every Wednesday from June through Labor Day since shortly after the Civil War.
Two beautiful shops on the main street in Bristol that are not to be missed bring to light the incredible talent of Vermont artisans.
Art On Main is a charming community supported artist cooperative showcasing the talents of artisans from around the state. This small gallery exhibits and sells an abundance of delightful creations, the work of over 80 artists both well known and newly emerging talent.
A wide variety of media are represented including hand thrown pottery, exquisite jewelry, textiles in various styles, woodenware, fine art, glass, small furniture items and photography.
The creations are attractively displayed making each item a treat for the eye. Numerous community events are scheduled throughout the year at Art On Main: rotating exhibits, featured artist series, open studio weekend, artist demonstrations and an emerging artists exhibit.
Vermont Tree Goods is an absolute joy to visit. This local company mills lumber and creates the most incredibly beautiful furniture from recycled heirloom trees that have reached the end of their growing years. Through the transformation into furniture, these magnificent beings extend their legacy by living on in homes and businesses. Using trees that are too large to fit into the usual lumber mill saws, Vermont Tree Goods artisans take the large trees and using their vision create what the tree wants to be made into.
From bedsteads to bookcases and tables to trivets, each piece of wood has a story. Each piece is hand crafted, natural-edged, Vermont grown and Vermont made. The pieces have timeless design and so stunningly finished that the grain of the wood cries out to be caressed. Unfortunately, in 2016, the largest elm in the entire northeast succumbed to Dutch Elm Disease. Fortunately however, at the end of its life Vermont Tree Goods and the Nature Conservancy worked together to continue the legacy of that beautiful tree and may lovely pieces have been created from the wood of this historic tree.
All the tables, benches and home goods crafted from this magnificent red elm by the VTG artisans are branded with the unique VT Elm logo, a silhouette of the tree.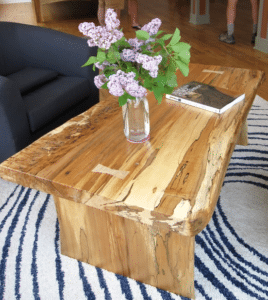 We are proud that our guests are able to be part of this legacy as we have four teapot trivets made from this stately elm.
Before heading back to West Hill House B&B we stopped at a favorite, the Bristol Café, to sit outside in the warm sunshine and enjoy a mug of tea and some home baked goodies.
With explorations over for the day we headed back home and across the Gap to Warren.
If you are ready to escape from your usual routines for a while, your explorations can be just around the corner. We invite you to come stay with us at West Hill House B&B, adjacent to the Sugarbush Resort and Golf Club and just a few miles from the town of Bristol. Let us work with you to plan your road trip in the beautiful Green Mountains of Vermont.