Mud season is upon us here in rural Vermont. A time when the snow melts, the ground thaws and the rains come. Although the ski season has come to an end many B&B owners like ourselves remain open and welcome guests while we catch up on the B&B 'honey-do' list.
Mud season is a perfect time to get away from your day-to-day routines and enjoy relaxing at a B&B with your special someone. It is a quiet time in this part of the country, and although the skiers have left, the roads still lead to the beautiful Green Mountains of Vermont —if you follow the driving directions.  Of course on our website we do provide you with a 98% mud-free route to our B&B.
Yankee Magazine had a lovely oh-so-true story this month entitled 'Hard Drive' which described perfectly the challenges of not only mud season but, mud season in combination with GPS.
Vermont has 8,600 miles of unpaved roads (that's twice the length of the continental US) and only 6,000 miles of paved roads. Those who live here appreciate the gravel roads and the beauty found along these roads less taken.
One of the challenges of mud season is that many of the gravel roads turn to a wonderful chocolaty brown layer of mud. While looking innocent enough, in some places the mud is ready to challenge you: will you make it through or will you be caught.
During mud season Vermont's B&Bs want to help you journey smoothly so we all recommend the same thing, "We live here and know the roads well — please read through our recommended directions and don't let your GPS or mapping website lead you astray!"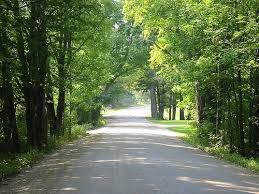 The subtitle of Yankee Magazine's 'Hard Drive' story is "The GPS crowd learns that when it comes to country roads, some are less taken for a reason."
Absolutely true! While GPS may give you the shortest route, that route might actually turn out to be a farm road or a gravel-road mountain pass deep in mud. In winter you may be led to a road actually closed in winter one which has been closed in winter since the beginning of time!
The key words are "we live here and know the roads well". While the route we suggest may be a bit longer, the timing is usually within minutes of the same and in the long run may require lots less time than waiting for a tow truck to pull you out of the mud!
We want you to arrive happy and relaxed, not stressed out!
So what's to do in Mud Season you ask? Plenty. Here are a few suggestions:
It's Maple Sugaring time; plan to visit a sugar house and see how the sap is transformed to wonderful Vermont Maple Syrup
Visit the Valley Arts gallery or take part in one of their special classes
Shop at the 'Almost World Famous Warren Store' they have a great deli too!
See the vast array of Vermont artisan talent at the Artisan Gallery Shop
Get a jump on Christmas decorations at All Things Bright and Beautiful
Check out the paintings and photographs by local artist at the Parade Gallery in Warren
Enjoy dinner at one of the local restaurants. While some are closed in mud season, there is still good dining to be had. Perhaps even dinner at the B&B.
Visit the waterfalls or one of the other self-driving tours we have created for you
The Three Mountain Café is a good stopping spot for a bite to eat and to check out local antiques
Visit the Mad River Taste Place to experience Artisan Cheese and a wide selection of other Vermont made produce
To get a taste of Mud Season at home try Susan's recipe for Mud Squares!
Whether you venture out and about or cozy up at the B&B; breath deeply, enjoy the mountain air and above all, r e l a x !
(Updated April 2022)