Stirring it up:  
Scottish Oatcakes are made with oats but the result isn't a traditional cake! This recipe can be mixed and baked in about 30 minutes. The result is a crisp and cracker-like Oatcake to be eaten with cheese, butter, jam or meat. Oatcakes are almost a Scottish icon like whisky, highland cows and castles.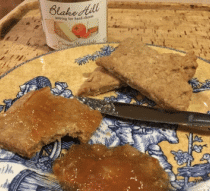 Makes ~32
Oven 375°F (190°C)
Bake 15 to 20 minutes
Abbreviations used:
c. = cup. USA cup measure has the capacity of 8 fl. ounces.
t. = teaspoon
T. = tablespoon
Ingredients:
1 ½ cups rolled oats (not instant)
1 ½ cups all purpose flour or whole wheat white flour (King Arthur flour is my choice)
½ t. baking soda
1/3 cup (scant) sugar
½ t. salt
¾ cup vegetable shortening
1/3 to ½ cup of water
couple of dashes of nutmeg (optional)
Method:
Set oven at 375°F (190°C).
Line a jelly roll pan with parchment paper or lightly grease the pan.
In a large bowl, mix together the oats, flour, sugar, baking soda, salt. Cut in the shortening until the mixture looks like large crumbs. You can use your fingers, two knives or a pastry cutter to do this.
Add a couple of dashes of nutmeg (optional).
Add just enough water to make the dough come together, the dough should be on the stiff side.
Lightly flour the working surface.
Divide the dough into two large balls, leaving one in the dish and placing the other on the floured working surface.
Roll or press the dough into a rectangle about ¼ inch (6mm) thick. If it is too sticky add a little more flour to the working surface and knead the dough just a bit.
Using a sharp knife, press down on the dough in a grid pattern, the downward pressure will be enough to cut through the oats.
Cut squares which are about 2 inches x 2 inches (5cm x 5cm).
Place cut pieces on the parchment or greased pan. They can be fairly close together as they don't spread very much. Don't worry if you have some funny shaped pieces as they taste just as good!
Place in a 375°F (190°C) oven and cook for about 15 minutes, you may need to cook up to another 5 minutes depending on how thick you have rolled out the dough
They are done when they are lightly browned and firm to the touch.
Makes about 32 rectangular pieces again depending on how thickly you have rolled out your dough.
Dishing it out:
If you love to cook, you too are likely to have a penchant for purchasing cookbooks. I have about two dozen which I use on a regular basis, and let's not count the number I have packed away nor my collection of individual recipe cards!
Oatcakes date back to Roman Times and likely haven't evolved much since then. I love the quote in the Oatcake entry in Wikipedia:
Samuel Johnson referred, disparagingly, to this staple diet in his dictionary definition for oats:
A grain, which in England is generally given to horses, but in Scotland supports the people.
Lord Elibank was said by Sir Walter Scott to have retorted
Yes, and where else will you see such horses and such men?[
This Oatcake recipe has been adapted from a cookbook titled The Art of Scottish-American Cooking by Kay Shaw Nelson. With ingredients found in North America, a little background to the recipe and easy to follow directions, Scottish food lovers will find this cookbook not only filled with good recipes, but an interesting read as well.
There is another recipe for Oatcakes inspired by a recipe on BBC Good Food.
Scottish Oatcakes are a staple in our household – being married to a Scot makes Oatcakes mandatory! My introduction to Oatcakes was on my first trip to Scotland where these crispy cracker-like Oatcakes were served at breakfast to be eaten with jam, honey or marmalade. Often at lunch he accompany a traditional Ploughman's lunch of cheese, cold sliced meat such as ham or beef, pickled onion, and chutney. Commercially made Oatcakes are crispier and thinner than those in this recipe and are also available as gluten free.
So, pack some Oatcakes along with some excellent Cabot Seriously Sharp Cheddar cheese and you have a great snack.