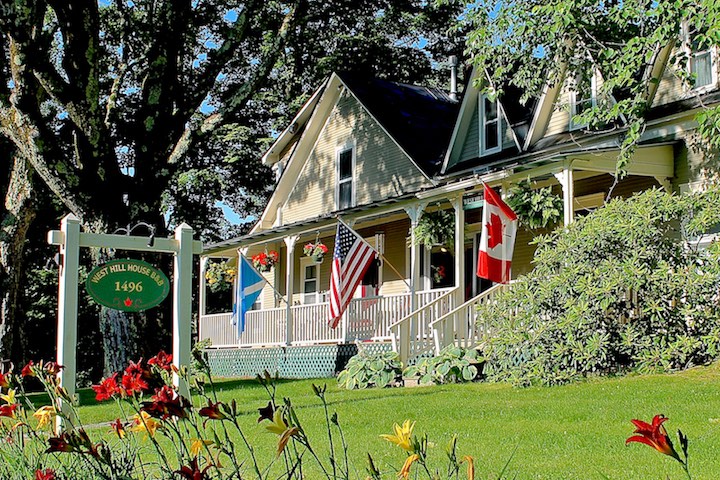 Scottish icons are visible throughout West Hill House B&B.
Here's a summer photo of the front of West Hill House B&B. We are often asked about the blue and white flag. Guests wonder if it is the flag of Finland, but no, it's the flag of Scotland. The white X represents the cross of the patron saint of Scotland, Saint Andrew against the blue sky. The flag is often referred to as the Saltire or the Saint Andrew's cross.
Many folks think "The Lion Rampant"  is the Scottish flag. This flag is, however, the symbol of the Scottish monarch and was first used in 1222. Currently referred to as "The Queen's Flag", it is flown over the royal residence in Scotland when the Queen is present, and its correct use is restricted by an act of the Parliament of Scotland.
With that bit of history covered off, what are the top 5 Scottish icons you think of when you hear the word Scotland?
Bagpipes. Tartan kilts. Highland cows. Castles. Whisky.  I'll bet this is pretty close to your list isn't it? Maybe you included Nessie, the cryptid creature of legend supposedly inhabiting Loch Ness in the Scottish Highlands. OK 6 icons. Wait, what about Scottish baking? OK, 7 Scottish icons! Hang on, there are many, many more! Yes, but this is a blog, not a book!
Musical (?!) Scottish Icon-Bagpipes
If you love all things Scottish, when you book your stay at West Hill House B&B, choose the Highland Room. Peter was brought up in Scotland, so we decorated the Highland Room with a nod to Peter's Scottish heritage by including items which illustrate these Scottish icons.
The Highland Room contains bagpipes, and while decorative, they are very similar to the real thing. Contrary to popular belief, bagpipes were not invented in Scotland. Sculptures and drawings of bagpipes date as far back as 1000 BCE. Here's a references from Canterbury Tales (written between 1387 & 1400 and which I thoroughly enjoyed studying at university), "A baggepype wel coude he bloweand sowne, /And ther-with-al he broghte us out of towne." References to bagpipes leading troops to battle date from the mid 1500s. As the saying goes, bagpipes were played to frighten away the enemy!
Wearable Scottish Icon -Tartan & Kilts
One of the best known Scottish icons may be tartans. Both tartan and the kilt also get a nod in the Highland Room. The "bag", and the banner draped over the set of pipes is in the Stuart tartan (no family connection).  The banner happens to be a remnant from the making of a child's kilt for a little three-year-old boy who was a ring bearer at his aunts wedding. You will also note tartan on our web pages, that's the MacLaren tartan!

Country farm Scottish Icon – Highland Cows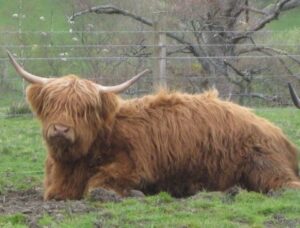 A Highland cow picture can be found in the photo display behind the room door.  Believed to be the oldest breed of cattle, their most distinguishing feature is their long, shaggy coat, which is actually double layered. The outer layer is oily to protect the animal from rain and the under layer is silky soft to help keep the body warm. Their broad, pointed horns help them forage in the winter. The animals are small ranging between 3.5 to 4 feet tall for males and 3 to 3.5 feet tall for females.
By the way, a group of Highland cattle is called a "fold" not a herd. As you drive through the countryside it is quite possible you'll see these cattle. While you may think they look cute, they can be protective if feeling threatened, especially if there are calves nearby so roll down the car window and take a photo, do not hop out of your car and try to take a selfie!
Historic Scottish Icon – Castles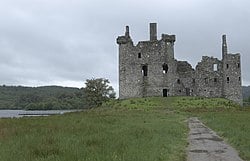 Castles abound in Scotland. On the spiral staircase up to the Highland Room there are several books and pictures of Scottish Castles. There have been well over two thousand although many early castles have passed into to history and only historical records remain. There are still hundreds you can visit. Some are fortresses, such as Scotland's iconic Edinburgh Castle and Caerlaverock Castle. Others were and are homes such as Dunrobin Castle, Inveraray Castle and Castle Fraser.  Many exist today as ruins which visitors can explore, of which St. Andrews Castle and Kilchurn Castle are examples.
Probably the best known Scottish Icon – Whisky
As for Whisky, we've got you covered there too! Our Quaich Bar is stocked with numerous bottles of single malt Scotch Whisky, Peter's favourites. Just ask and he will be happy to introduce you to and pour you a wee dram. By the way Scotch Whisky is from Scotland and Whiskey is the spelling used in Ireland and the USA. Slàinte!
If you come simply to enjoy the Highland Room while you explore the Mad River Valley, or are coming to West Hill House B&B get a taste of Scotland before you travel there, we're more than happy to answer any questions you may have about Scotland and how to make the most of your Scottish adventure.