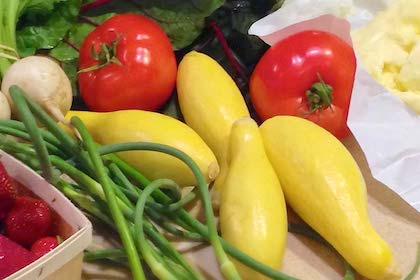 Nothing takes the joy out of a vacation like eating the same old foods at the same chains. The whole point of going somewhere new is experiencing the local scene – and that includes food and drink. When it comes to Mad River Valley dining, that's easy to do because eating out likely means a true farm-to-table experience!
Vermont's farm-to-table initiative has made finding fresh, locally produced ingredients at restaurants and other establishments in our state much easier. That's certainly true of the Mad River Valley dining scene!
The Mad River Valley has a long tradition of food producers and providers utilizing locally-sourced ingredients. The trend has only become more common in recent years and now virtually all Warren area restaurants use local sourced foods.
The farm-to-table concept doesn't end at restaurants, however. Community Supported Agriculture (CSA)  initiatives offer all residents, including us here at the B&B, the opportunity to purchase shares in the produce the farms harvest throughout the growing season. The result is a wide variety of local fresh vegetables and fruits on the breakfasts table. Farm-to-table also includes bakers, brewers, distillers, and other food makers.
Vermont's famous Cabot Creamery is an excellent example of Vermont made food.
The Cabot Creamery Cooperative makes a wide array of award-winning cheeses – and all the milk is sourced from  dairy farms in Vermont and neighboring states, all of whom are part owners of the co-op. Their headquarters are just a few minutes up the road from us in Waitsfield, VT.
Another popular local producer – very popular! – is Lawson's Finest Liquids. Lawson's Finest is an award winning, small batch brewery here in Warren. If you're a craft beer fan you absolutely owe it to yourself to check out their amazing selection of locally-sourced brews. Luckily, you can find them right here in the Mad River Valley and throughout Vermont – we stock two of them in our bar.  And come this summer theirnew brewery will open in Waitsfield with its own tasting room and retail counter.
Mad River Distillers are another local company based in Warren that relies heavily on locally-sourced ingredients. Mad River Distillers' ferment, distill and bottle bourbon, rye, rum, and apple brandy. Their spirits are distilled by hand and from scratch, using sustainably harvested, non-GMO ingredients – from Vermont, when possible.
You can't have farm to table without farms and the Mad River Valley has them in spades. La Lu Farm, Hartshorn Organic Farm, and Kingsbury Market Garden are a few of the Warren area farms that come to mind. Red Hen Bakery, Quayl's Chocolates – the list of wonderful growers and producers here in the Mad River Valley seems endless.
The Mad River Taste Place is an excellent place to find many of the items listed above. Their extensive variety of local cheeses, alone makes them worth a visit!  Over 50 makers are represented with a wide selection of products that range from cultured butter, naturally leavened bread, handmade chocolates, an extensive and changing selection of Vermont cheeses, old-world style charcuterie, craft beer, hard cider, wine and distilled spirits. Many of these products are made within just a few miles of the Taste Place.
Mad River Valley Dining
The best part of dining in the Mad River Valley is that you're likely enjoying the farm-to-table experience whenever you dine out here. Virtually all our restaurants use locally sourced or produced goods for their meals. It's good for the area and great for our visitors!
West Hill House B&B is proud to be part of this tradition. A stay at our Mad River Valley bed & breakfast is another way to enjoy a farm-to-table experience. We use numerous, locally produced products in our signature New England Breakfasts. Our seasonal fruits and veggies come from the Muddy Boots CSA, a group of three farms that make available a wide variety of produce during the spring, summer and fall. Our cheese and yogurt from the Cabot Creamery Co-op, and our maple syrup is from both Hartshorn Organic Farm and West Hill Sugar Orchard.
We could go on, but you get the idea. Now all you need to do is book a stay with us, then you can enjoy tasting all the best of Vermont!