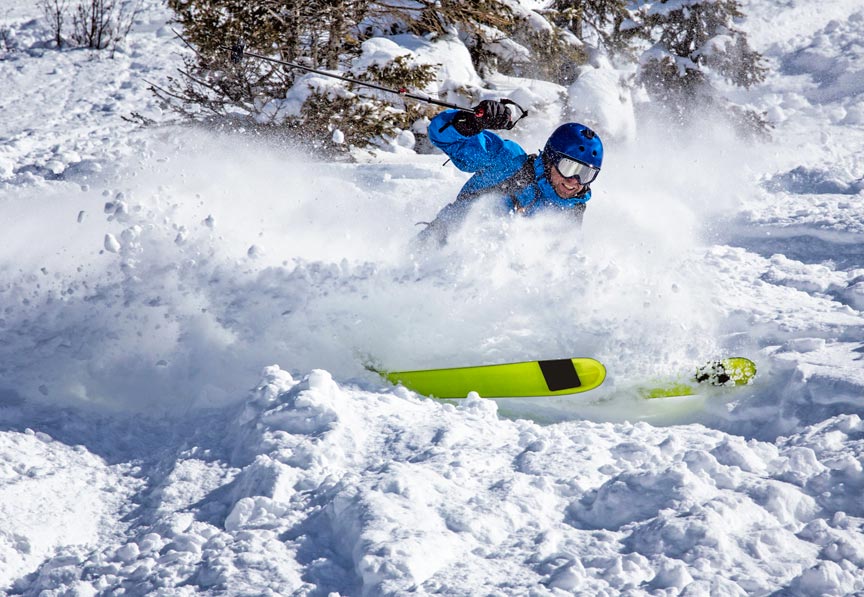 As spring approaches, we feel compelled to point out that, even under the best of circumstances, there is only so much time left to hit the slopes. Luckily, our Mad River Valley B&B has Sugarbush Resort for a next-door neighbor. That convenience spells easy access to great skiing and special events like the upcoming Castlerock Extreme!
Much as we enjoy spring, it is with some sadness that we bid adieu to winter and all the great pastimes it affords us. But wait, let's not be too hasty! There is still time to hit those slopes and bust that powder, as the Sugarbush event calendar would remind us. In fact, one of the most exciting events of the season is nearly upon us: the annual Castlerock Extreme Challenge!
Castlerock Extreme is the longest running, unconventional terrain competition in the East. Skiers stream to Sugarbush every year for the chance to go toe to toe against each other and Castlerock Peak's fabled terrain. The run has steeps, moguls, drops, and rock bands enough to keep any skier on their toes.
Castlerock Extreme is part of the Ski the East Freeride Tour. Competitors are scored on their line, control, fluidity, technique and style, with a cash purse of $1,000. Only 80 registration spots are available and tend to fill very quickly. The event is an exciting one both for competitors and or spectators alike. You do NOT want to miss it!
Sugarbush Castlerock Extreme 2018
Saturday, March 10th, 2018 – 8am to 4pm
As I mention above, the Castlerock Extreme Challenge isn't the only thing happening in March at Sugarbush. Other upcoming events include a "Tour de Moon" ski trip on March 3rd, High Fives FAT Ski-A-Thon on March 4th, Twilight Snowshoe Tours, and more. Discover all that's on tap for the coming months by visiting the Sugarbush website.
With Sugarbush resort just minutes from our front door, West Hill House B&B is the obvious choice for Mad River Valley accommodations. We're winter sports enthusiasts who love to help others enjoy all our area has to offer. Further, the Sugarbush ski-shuttle is more than happy to pick you up from our Mad River Valley bed and breakfast for a day on the slopes. Book your stay at West Hill House B&B today!