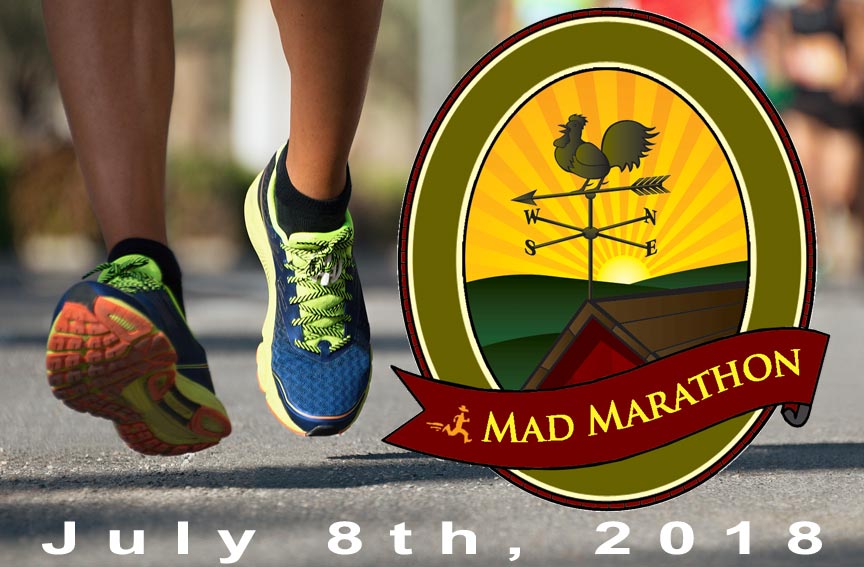 Runner's World recently listed Mad River Valley's Mad Marathon as one of their "​10 Bucket List Marathons You Should Run In 2018." We couldn't agree more! The 2018 Mad Marathon is scheduled for July 8th, so now is the perfect time to start making those travel plans.
No knock on Runner's World, but the 2018 Mad Marathon being a bucket list run isn't really news. The race's tagline is, "The World's Most Beautiful Marathon," after all! Runners agree that it's one of the toughest marathons and half marathons around – but also one of the most beautiful.
Vermont's Mad Marathon is perfect for those runners looking for a peaceful race with a smaller but spirited crowd. The course runs through the quintessential New England countryside of Vermont's Green Mountains. Runners will enjoy a backdrop of barns, silos, covered bridges, and lots of cows. Vermont's typically mild summers usually serve up some spectacular running weather, too: bright but breezy – and not too hot.
The 2018 Mad Marathon is fully certified and sanctioned by US Track & Field and is a Boston Marathon qualifier. The Full Marathon course is 26.2 miles of back roads. Other events include the Half Mad Marathon (13.1 miles), a two person relay team for the Mad Half, and three and five person relay teams for the Full Mad. Walkers are allowed to participate in the Mad Half Marathon under the Mad Half Walker category.
West Hill House B&B is proud to once again be a sponsor for the Mad Marathon. We are big sports enthusiasts and love to share our beautiful corner of the country with others.
In that spirit, we offer the 2018 Mad Marathon lodging special!
2018 Mad Marathon Lodging Special
The West Hill House B&B Mad Marathon lodging special is perfect for both participants and their supporters. With it, you'll receive:
An incredibly comfortable guest room with a queen or king bed
A carb-loading dinner on Saturday evening – compliments of West Hill House B&B
A nutritious buffet breakfast served at a time of your choice on the morning of the Marathon
A relaxing steam-shower or Jacuzzi in your ensuite bathroom to help you recover after the run
With so many race-related events, starting July 6th to race day, and all there is to do in the Warren area, we knew our lodging special couldn't cover just one or two nights. Consequently, our 2018 Mad Marathon lodging special nets you all the above goodies plus a 4 night stay for two, starting at approximately $500, including tax.
With a four or more night stay, Sunday night is on us!
If you'd like to take advantage of our Mad Marathon lodging package, please call us at 802-496-7162. You can also book the special online, when you book 4 or more nights, using promotion code 8thMad. For more details be sure to visit our Mad Marathon lodging special page.
See you soon!