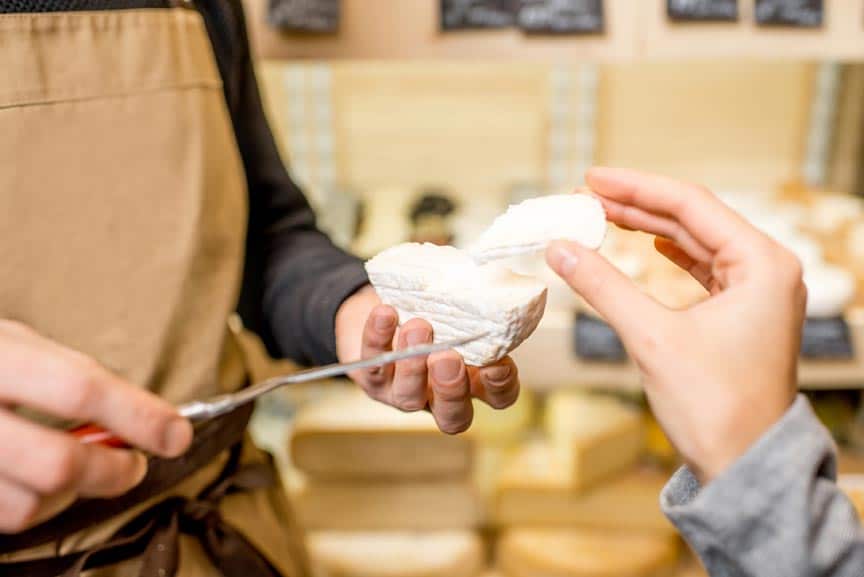 Love cheese? Who doesn't? Cheese is so popular, there's even cheese-tourism. We here in Vermont should know, we offer it! If you've a hankering to make your whey (sorry for the cheesy pun) to some of our local cheesemakers, all you need do is head out on the Vermont Cheese Trail!
Vermont is known for lots of things – but our cheese is a definite standout. We even have a Vermont Cheesemakers Festival! (August 12th, 2018 at Shelburne Farms, for those interested)
Cheese is one of those magical foods that people either LOVE or, if they don't, wish they could. Cheese can be soft, hard, creamy, gooey, sweet, salty, grated, spread, baked, and melted.
Perhaps best of all, cheese can be locally made.
Vermont is home to hundreds of craft cheesemakers. These small-batch artisans produce a wide variety of delicious and unique regional cheeses you'll find nowhere else. That's where the Vermont Cheese Trail comes in.
Vermont's Cheese Trail stretches all the way from the Canadian border, down to Massachusetts, and features more than 50 stops. Cheesemakers can be found all across the state, from New Hampshire to New York. And yes – there are a number of cheese producers right here in the Mad River Valley, just minutes from our Vermont B&B!
Local Vermont Cheese Trail Stops
Three Shepherds Farm
108 Roxbury Gap Rd, Warren, VT 05674
Three Shepherds Farm produces artisanal cheeses made from cow or sheep milk, and aged in straw-bale cheese caves. The farm is also famous for their cheese-making classes. If you hope to visit, call 802-496-3998 or visit them online at www.threeshepherdscheese.com. Three Shepherds Farm cheeses can be found at the Waitsfield Farmers Market.
von Trapp Farmstead
www.vontrappfarmstead.com
von Trapp Farmstead specializes in producing a variety of organic, artisan cheeses at their family farm in Waitsfield, Vermont. A true "farmstead" operation, the milk used for their cheeses comes from the cows in their fields. While the farm is not open to visitors, their cheeses can be found at numerous locations, including the Waitsfield Farmer's Market, The Warren Store, and The Mad River Taste Place.
Midnight Goat Farm
9613 Main Rd, Huntington, VT 05462
Midnight Goat Farm is a small, family-run dairy and creamery in Huntington Vermont. Their pasture-fed, Alpine goats are hand-milked daily to produce micro-batches of all-natural, handcrafted, artisan cheeses. In fact, they are the only commercial, Grade A "hand milking" dairy in Vermont! Visit the farm to meet the goats and buy their cheeses: 802-882-1952 – midnightgoatfarm.com.
Cabot Creamery Cooperative
The Cabot Creamery Cooperative is well known for producing a wide array of award-winning cheeses and other dairy products. The cooperative includes some 1,200 dairy farms. They have locations in Waterbury and Quechee where you can taste free samples, and, of course, you can also visit their creamery in Cabot, VT. Interestingly their corporate headquarters are just up the road in Waitsfield, VT! Visit www.cabotcheese.coop to learn more.
Mad River Taste Place
For those looking for more of a tour for the taste buds, Mad River Taste Place (89 Mad River Green, Waitsfield, Vermont 05673) is not to be missed. Mad River Taste Place is a retail store focused on local, artisan food and drink. Over 50 local food products can be found here, from butter to craft beer, chocolates to charcuterie. And cheese? Oh, wait 'til you see! The Mad River Taste Place also hosts the office of the Vermont Cheese Council.
Making You Own Vermont Cheese Trail
West Hill House B&B is proud to be in Vermont where it seems almost everyone is passionate about the things that make our state such a great place to live and visit. We would be more than happy to help you put together a personal Vermont Cheese Trail itinerary. Just let us know your level of interest level and the amount of time you'd like to spend and we'll do the rest.
Let us help you make the most of your Vermont getaway. Book your stay at West Hill House B&B today!