Farm life isn't easy. For those who make farming a way of life it shows a love of the land.
Hardly a day goes by that one doesn't see an article on healthy eating. Magazines, newspapers, the Internet, and TV programs, are all touting the benefits of healthy eating. Copious numbers of recipes are shared and all kinds of food combinations are recommended. However, one has to look a bit harder to find articles on those who work to produce the wonderful products that keep us well fed. The farmers.
The recent statics for Vermont show that there are 7,338 farming operations. The agricultural land base has increased by 8.4% over the previous 5 years and now there are 1,251,713 acres being farmed in Vermont.
One of the exciting notes reported by The Vermont Agency of Agriculture, Food & Markets is that there is a growing number of young people between the ages of 25 and 34 who have joined the ranks of farmers.
This is good news as today's farmers are getting older and are keen to share their knowledge, often through mentoring those who are just starting to farm. In 2007, the the average age of a Vermont farmer was 56.5. Today, it's 57.3. What is to become of our fine source of farm knowledge if young farmers are not supported in their desire to embrace this way of life?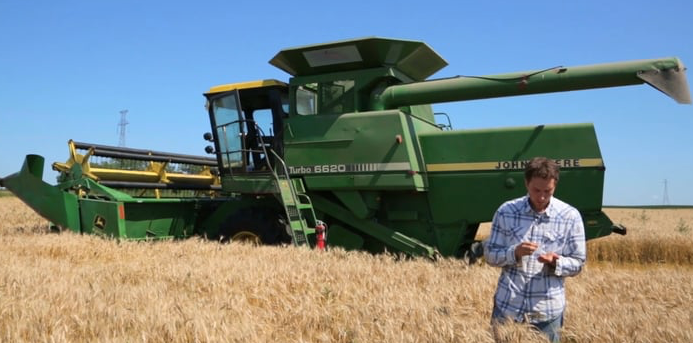 The National Young Farmers Coalition along with King Arthur Flour (an employee-owned business based in Norwich, Vermont) in 2016 posted a video entitled Heart and Grain. In this video John and Halee Wepking of Wisconsin talk about why they love the land and have turned to farming as their way of life. The accompanying two stories on the video highlight the stories of other young farmers who are growing grains, Andrew Barsness of Minnesota and Mai Nguyen farming in California. It isn't an easy life but young farmers like these find it a fitting way to give back to the earth. These farmers along with many in Vermont, and indeed farms in many countries, feel it is important to focus on sustainability, minimizing negative environmental impacts, and producing a quality product.
This country is privileged to have a huge variety of farms growing a vast array of produce. If you would like a behind the scenes look into Vermont's vibrant working agricultural landscape and an opportunity to meet some of the farmers who produce the food we enjoy here in Vermont, plan to visit during Vermont's Open Farm Week, August 13-19, 2018. For more information… And while you travel through the state, be sure to 'shop local' at the numerous Farmers' Markets – the Waitsfield Market opens on May 19th and runs every Saturday though mid October.
So, the next time you are on the highway behind a slow moving piece of farm equipment, take a moment to think of the farmer. Appreciate the hard work that the driver of that vehicle does to make your life better, all the while caring for our precious earth. Remember the words of Murray McLauchlin's Farmer Song, "These days when everyone's taking so much, There's somebody giving back in".