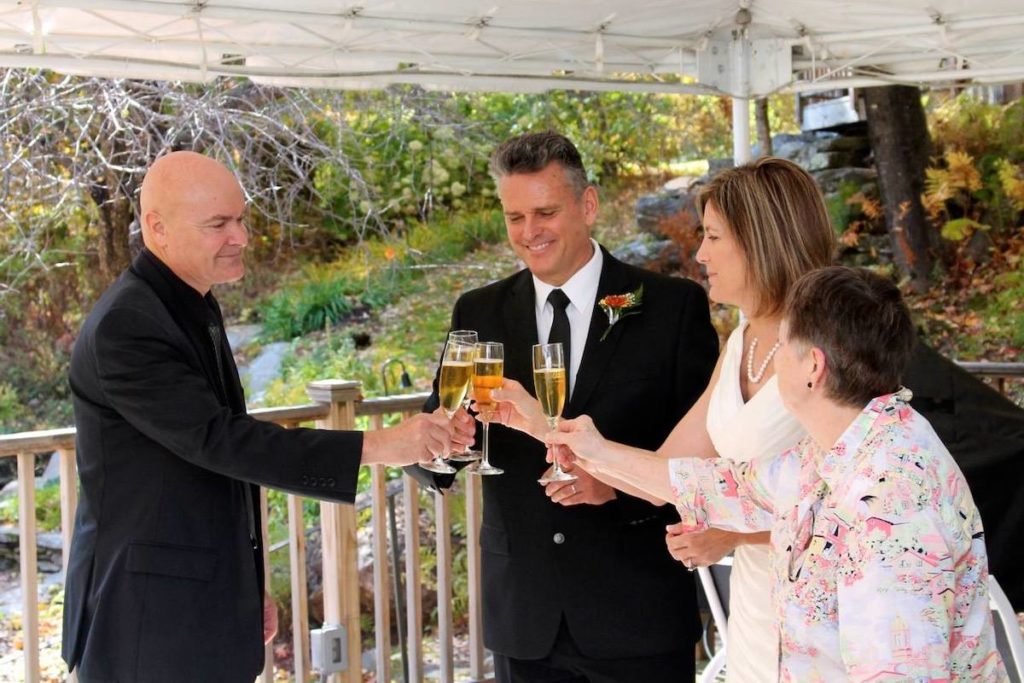 When you start planning for your big day, finding a venue can be the hardest part. Thankfully, our Warren Bed and Breakfast is the ideal location for your stunning Vermont barn wedding. Our picturesque rustic red barn is the perfect backdrop in any season, be that in the snowy white of winter or the colorful hues of autumn, the verdant spring, or the bright sunny summer days. A Vermont barn wedding is a memorable choice all year round!
Our Vermont Bed and Breakfast is nestled in the heart of the Mad River Valley on nine beautiful acres. Surrounded by mountain views, meadows, ponds, and our award-winning gardens, there's no better space to hold your nuptials. We offer several intimate locations for your ceremony, depending on guest count and your wishes. For a traditional Vermont barn wedding, we can accommodate up to 50 guests.
One of the best parts about holding your ceremony with us is the on-site lodging options. Our Vermont Bed and Breakfast has nine private guest rooms, perfect to oblige the newlyweds and their closest family and friends. Each room is unique and serves as a comfortable space for guests to relax and celebrate the people they love moving on to the next journey in their lives. We can't wait to be a part of that with you! Book your next stay in Vermont today.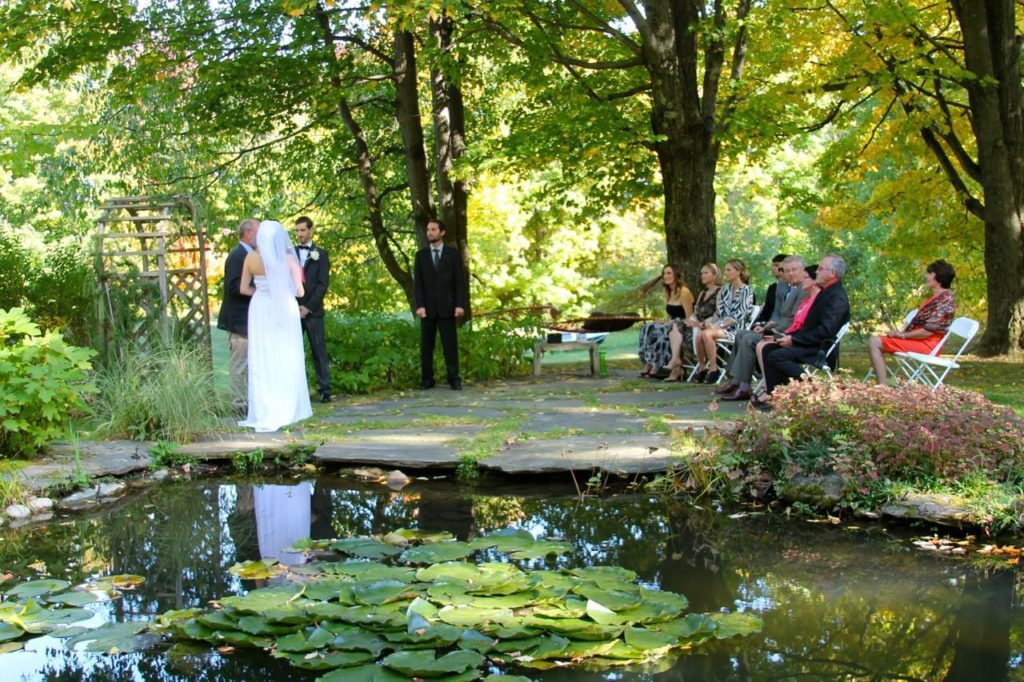 Beautiful Garden Grounds for your Vermont Barn Wedding
After you've made the choice to begin the plans for your Vermont barn wedding at the West Hill House B&B, then the fun begins! We love weddings and, best of all, being a part of one of the most important days in a couple's life. Here are important things to consider as we work out the details for your upcoming event.
Our Location: Our Vermont Bed and Breakfast is in an ideal location for weddings and receptions. Warren, Vermont is as picturesque as it gets, set back in the Green Mountains, surrounded by rolling green hills dotted with historic buildings. We're close to Vermont ski resorts, golfing, and beautiful wooded hikes, as well as attractions like Ben and Jerry's and elegant downtown dining options.
Venue Choices: We have quite a few options for where you can hold your ceremony on site. Depending on the time of year, our garden grouds set a beautiful backdrop. A gazebo made from Vermont Hemlock, a garden glen with ponds and meadows, and the handsome red barn for bigger celebrations. We even have options inside our B&B for more intimate ceremonies.
Intimate Weddings: For a Vermont barn wedding up to 50 guests, the rustic space is the ideal location for your reception, while the ceremony can be on the grounds as well. We provide consultation, a wedding officiant, tables and chairs, flatware and glassware, and a sound system for a personal playlist. You'll be given a list of preferred caterers, florists, DJs, and photographers who are the best in our area. A two-night stay is always included in the cost of the wedding for the happy couple.
Micro-Weddings and Elopements: We're also happy to host very small, intimate gatherings, elopements, or vow renewal ceremonies. For these options, we have special packages tailored to quiet and peaceful celebrations, where we've covered every detail for you.
Honeymoons: After all of the planning and the anticipation for the big day, there's no better way to relax and be in love than on a honeymoon at our Vermont Bed and Breakfast. You'll be set back in the gorgeous countryside, but just minutes from intimate fine dining and outdoor activities. At our Inn, we provide scrumptious breakfasts and lovely afternoon socials with snacks and adult beverages.
Romantic Lodging for your Wedding Night at our Vermont B&B
After a successful and exciting Vermont barn wedding, the newly married couple will be more than ready to retreat to their private suite. One of our most alluring rooms is The Paris Suite. A romantic four-poster bed, luxurious linens, private entrance, and separate study make this room cozy and comfortable. Additionally, the spa bathroom is the icing on the cake, with a double jetted tub, small gas fireplace, and corner unit glass shower. It's the ultimate peace and quiet for your wedding night!
Allow us to treat you in the morning to piping hot coffee, homemade treats, and delicious breakfast entrees. Just one less thing you'll have to plan for on your relaxing stay with us. Guests often enjoy their morning meal in our shared dining space, but if the newlyweds would prefer breakfast in bed, we can make that happen too. Start planning your Vermont barn wedding with us and get your dates on the book!