Skiing is a way of life in Vermont, and the spectacular Mad River Glen is a favorite resort for professionals, skilled skiers, and novices alike. Come winter, visitors to our area come packing gear and ready to hit the slopes on the Green Mountains. Mad River Glen offers some of the most challenging and diverse terrains in New England, including a 2,000-foot vertical drop—that's bound to get your heart pumping.
Mad River Glen feels like the ski resorts of the past. It's one of the very few ski resorts in the United States that still only accommodates skiing—unfortunately for some—no snowboards allowed. This old-school resort is also one of the only places to operate a single occupancy chair lift still, and it's the last remaining shareholder-owned ski area in the country. For true ski enthusiasts, it's these details that make Mad River Glen a bucket-list destination.
There's no better lodging choice for those with a ski retreat in mind to Mad River Glen than our Vermont Bed and Breakfast. We're located within 15 minutes of the ski area, and our cozy and comfortable nine-room Inn is warm and welcoming after a day on the slopes. Start planning your next winter vacation in Vermont and book your stay today!
Skiing at Mad River Glen and More Vermont Ski Resorts
One of the main reasons Vermont is such a skier's paradise is the dependability of the snow season, which often lasts as long as late November through mid-April. With an average of more than 25 feet of beautiful powder and state-of-the-art snowmaking technologies, skiing in Vermont is always a great experience.
Mad River Glen is one of the premier ski destinations in Vermont for many reasons. These ski runs rely mainly on natural snowfall, and trails follow the mountain's contours, creating a very natural ski experience. Nothing here feels commercialized or fabricated: just you, two skis, and the bright sun reflecting off the powdery white mountain. While Mad River Glen is one of the more challenging terrains in New England, it's also family-friendly and great for beginner skiers due to its layout with a single base area,
Sugarbush Resort is one of the largest ski areas in all of New England, and it just so happens to be mere minutes from our Vermont Bed and Breakfast (the ski shuttle will take you door-to-door!). Unlike Mad River Glen, this resort has modern amenities that more commonly go hand and hand with ski vacations these days. Sugarbush has 111 trails of varying degrees of difficulty encompassing 4,000 acres of gorgeous Vermont mountain terrain.
Middlebury College Ski Bowl is the third oldest ski area in Vermont and has been owned and operated by the college since 1934. While this ski area is more compact, spanning 110 acres on Worth Mountain, you'll find some excellent snowfall here and exciting runs. Thankfully, Middlebury is only about 30 minutes from our Inn for a beautiful day out on the slopes.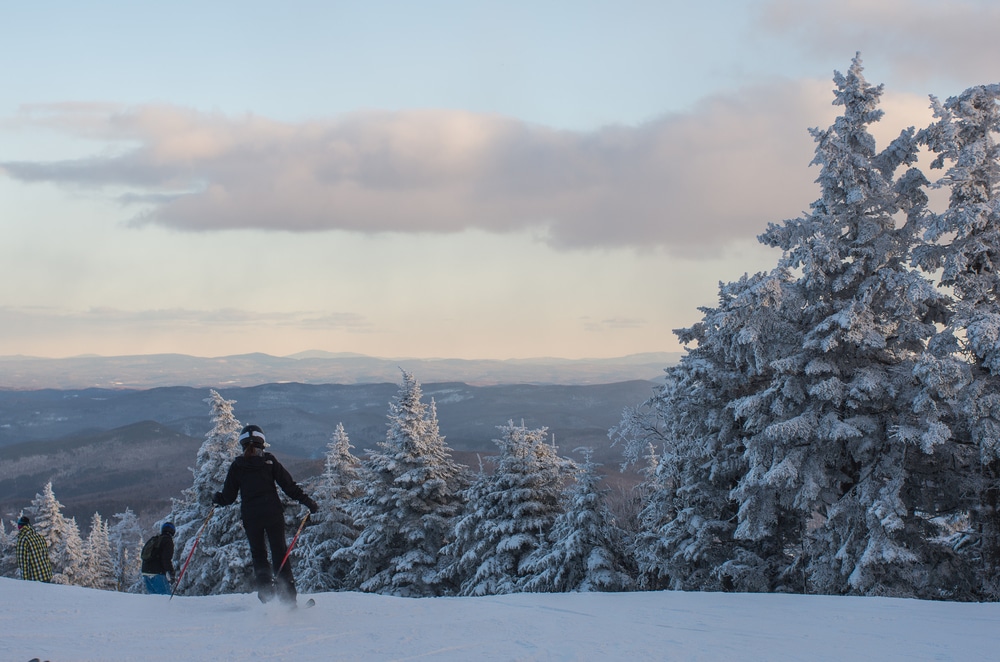 Two Vermont Ski Resorts within an hour of our Warren Bed and Breakfast
Killington Ski Area is the largest ski resort in all of the Eastern United States, and its claim to fame is the most significant vertical drop (clocking in at 3,050 feet) in New England. Here you'll find 155 trails for skiing and snowboarding and 21 lifts spanning six interconnected mountain peaks. You'll also want to check out the dining and shopping options at the resort to unwind after your ski runs.
Stowe Mountain Resort covers two mountain peaks, Mount Mansfield and Spruce Peak, providing 40 miles of skiable terrain on more than 100 trails. This year marked the 85th anniversary of the opening of this Vermont ski resort. Stowe Mountain has a lot of amenities for pre and post-ski runs, but it's known to be one of the more crowded resorts during peak snow season.
As always, at the West Hill House B&B, we're more than happy to help our guests plan their Vermont ski vacations, so please let us know if you have any questions about transportation, lift tickets, or conditions.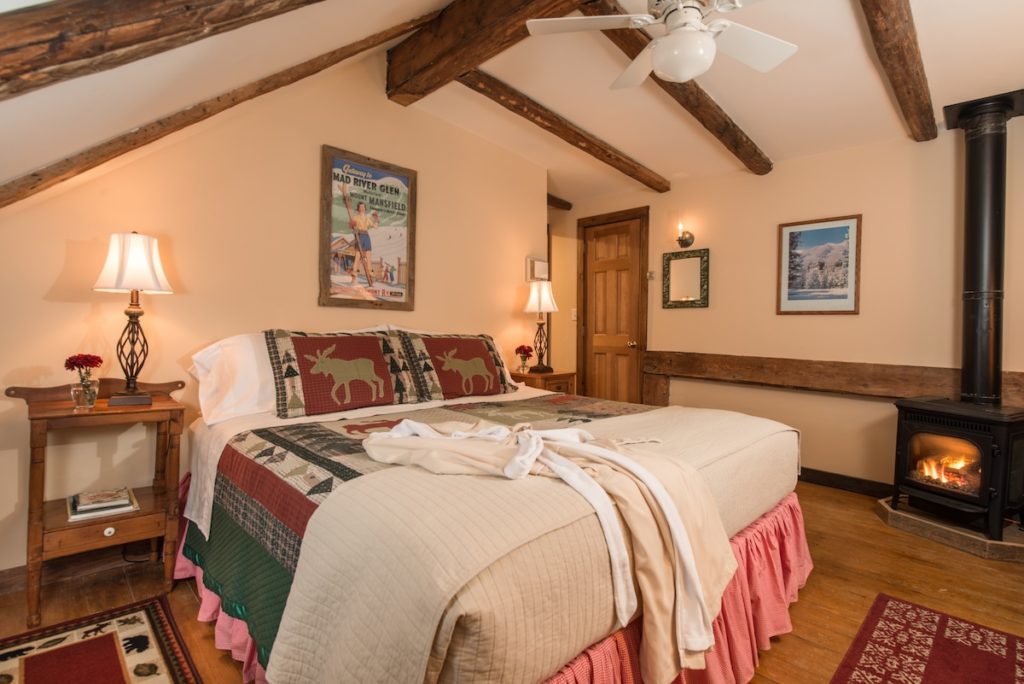 Rustic Lodging for your Ski Vacation to Vermont
Our Warren Bed and Breakfast is the perfect space to make your home away from home, especially for those who seek a true Vermont ski retreat at Mad River Glen. From the minute you turn down our quiet country road, you'll feel whisked away and completely sheltered from the hectic day-to-day. Our nine unique and beautifully appointed guest suites are welcoming and comforting.
Our rustic and cozy Inn offers a complete respite after a chilly day on the slopes. You'll spend your evenings warming your toes by a wood stove, enjoying single malt scotch from our impressive collection, and spending the mornings with freshly brewed coffee and homemade breakfast. Join us in the New Year for a fantastic retreat to Vermont. Book your stay today!