A beautiful, warm and sunny mid-April day just begs to be enjoyed so, having no overnight guest to attend to, we set out to enjoy the afternoon and view the works of area artisans.
Our afternoon outing started in Middlebury, about 45 minutes from the B&B, where we stopped at the Vermont Coffee Company for coffee and some lunch. The Vermont Coffee Company is a small company that began slow-roasting small batches of coffee in 1979. As they note, "All the coffees we buy are organic and fair trade. While on their own these aren't 'quality standards' they are standards for a higher quality of living for the farmers who grow the coffee." (Open weekdays only, until 2PM.)
Our guests love the dark roast that we use for our breakfast coffee. Buy Vermont Coffee Company coffee, save the brown paper wrappers and trade them in for some cool stuff – a travel mug? Perhaps, but saving up for a special Vermont Teddy Bear with a "Friends" t-shirt won't take too much longer!
Next stop was Bristol nestled at the foot of the Green Mountains just over the Gap from Warren. The town dates back to 1762. While many of the buildings date from a later time period, the entire downtown is a National Historic District. The town green has been a central part of village life throughout the town's history. The Bristol Band has presented outdoor summer band concerts in the gazebo on the town green every Wednesday from June through Labor Day since shortly after the Civil War.
Two beautiful shops on the main street in Bristol that are not to be missed bring to light the incredible talent of Vermont artisans.
Art On Main is a charming community supported artist cooperative showcasing the talents of artisans from around the state. This small gallery exhibits and sells an abundance of delightful creations, the work of over 80 artists both well known and newly emerging talent.
A wide variety of media are represented including hand thrown pottery, exquisite jewelry, textiles in various styles, woodenware, fine art, glass, small furniture items and photography.
The creations are attractively displayed making each item a treat for the eye. Numerous community events are scheduled throughout the year at Art On Main: rotating exhibits, featured artist series, open studio weekend, artist demonstrations and an emerging artists exhibit.
Vermont Tree Goods is an absolute joy to visit. This local company mills lumber and creates the most incredibly beautiful furniture from recycled heirloom trees that have reached the end of their growing years. Through the transformation into furniture, these magnificent beings extend their legacy by living on in homes and businesses. Using trees that are too large to fit into the usual lumber mill saws, Vermont Tree Goods artisans take the large trees and using their vision create what the tree wants to be made into.
From bedsteads to bookcases and tables to trivets, each piece of wood has a story. Each piece is hand crafted, natural-edged, Vermont grown and Vermont made. The pieces have timeless design and so stunningly finished that the grain of the wood cries out to be caressed. Unfortunately, in 2016, the largest elm in the entire northeast succumbed to Dutch Elm Disease. Fortunately however, at the end of its life Vermont Tree Goods and the Nature Conservancy worked together to continue the legacy of that beautiful tree and may lovely pieces have been created from the wood of this historic tree.
All the tables, benches and home goods crafted from this magnificent red elm by the VTG artisans are branded with the unique VT Elm logo, a silhouette of the tree.
We are proud that our guests are able to be part of this legacy as we have four teapot trivets made from this stately elm.
Before heading back to West Hill House B&B we stopped at a favorite, the Bristol Café, to sit outside in the warm sunshine and enjoy a mug of tea and some home baked goodies.
With explorations over for the day we headed back home and across the Gap to Warren.
If you are ready to escape from your usual routines for a while, your explorations can be just around the corner. We invite you to come stay with us at West Hill House B&B, adjacent to the Sugarbush Resort and Golf Club and just a few miles from the town of Bristol. Let us work with you to plan your road trip in the beautiful Green Mountains of Vermont.
April 25, 2016 by Corey A. Edwards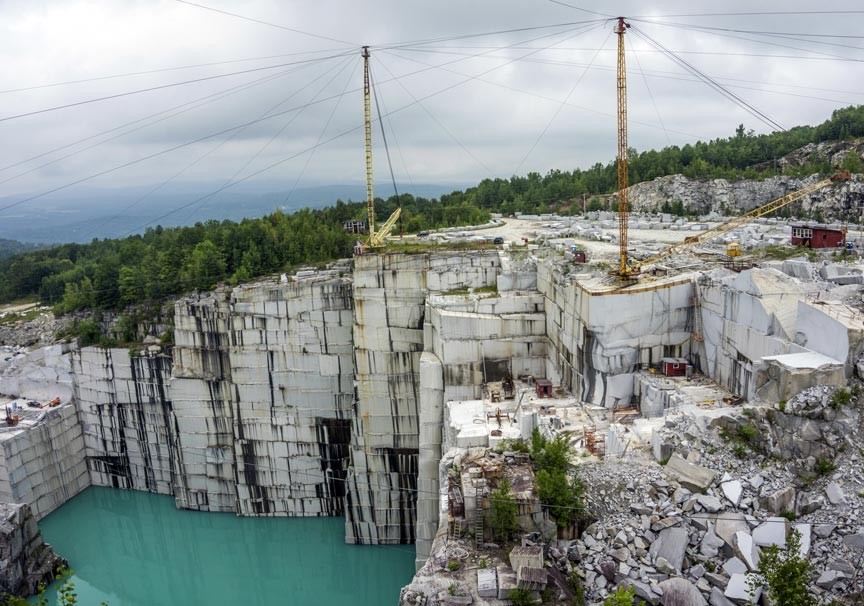 Rock Of Ages Granite Quarry, in Graniteville, VT (where else?) has been harvesting granite from Vermont soil since the late 1800's – and providing tours of their operations since the 1920's!
Rock Of Ages Granite Quarry has been selling Medium and Dark Barre granite from Graniteville since time out of mind. Granite sourced from these quarries have been used in countless monuments, memorials, construction, and decorative architecture for almost 150 years and show no signs of slowing down any time soon.
Read the rest of this page »
March 14, 2016 by Corey A. Edwards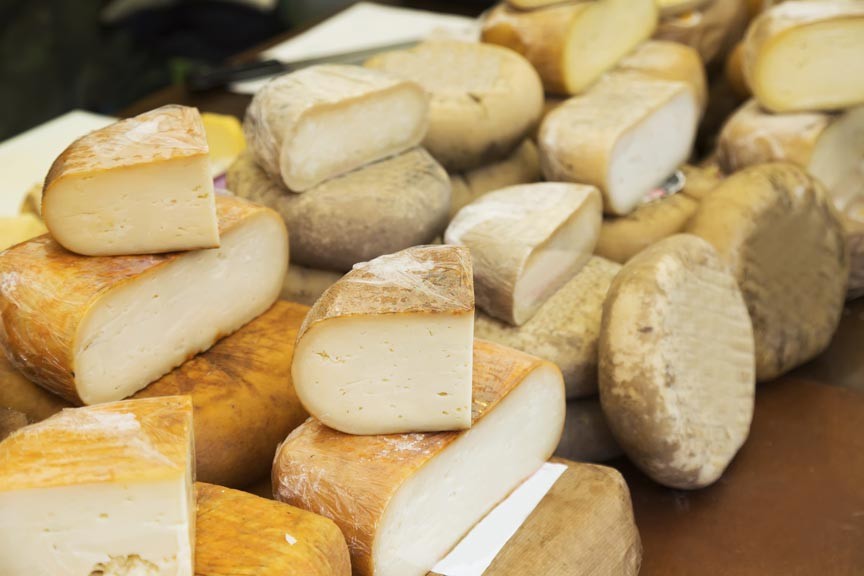 The Vermont Cheese Trail stretches from New York to New Hampshire, from Rhode Island to Quebec, and all points in between. Curd lovers visiting Vermont's Mad River Valley can get in on the fun, too!
The farm-to-table movement may be one of the most exciting (and delicious) dining trends we've seen in a long time. The emphasis on fresh, locally harvested and crafted foods is a good thing, no matter how you serve it up.
Regional craft cheeses have long been a "thing" but public awareness of them is growing and with it, cheese tourism. We here at West Hill House B&B not only understand, we thoroughly agree! Part of what makes life so worth living is good food – and cheese is one of the most amazing and delightful foods there is!
Read the rest of this page »
November 13, 2015 by Corey A. Edwards
The 17th annual Country Christmas Open House, held in the Mad River Valley's Waitsfield and Warren, Vermont, December 5th & 6th 2015, is a great opportunity to celebrate the season with several festive activities, get some shopping done, and maybe even be immortalized on canvas!
The Mad River Valley really knows how to put on an event and the 17th Annual Country Christmas Open House is no exception.
This year, businesses in both Warren and Waitsfield are working to make this popular, annual event more festive then ever before! Gaily decorated Christmas trees will dot the downtown sections of both towns, accompanied by the warmth of festive, glowing luminarias along the banks of the Mad River.
Read the rest of this page »
September 25, 2015 by Corey A. Edwards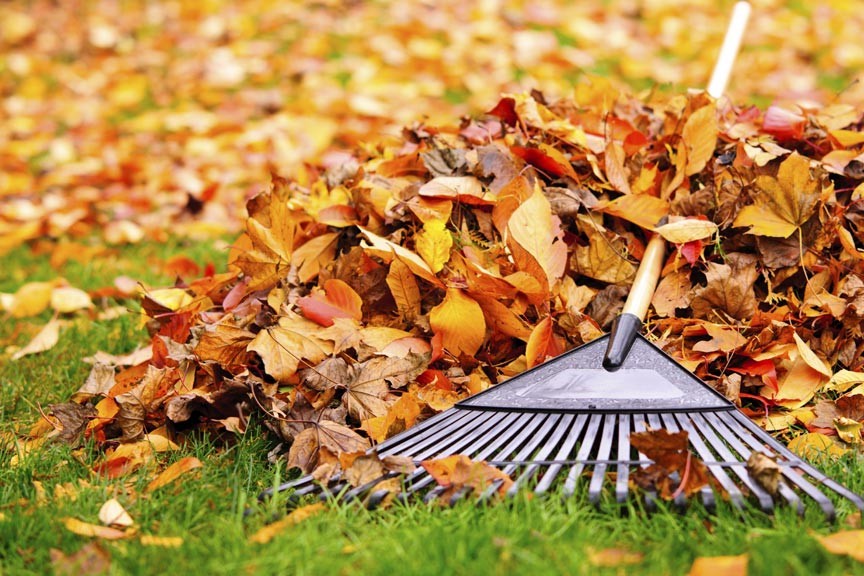 Spring has sprung and summer is a goner but that just means it's time for Vermont fall foliage and harvest festivals! Our Mad River Valley lodging specials for fall help take advantage of one of the best times of the year to visit Vermont!
If you're a fan of fall foliage, now – mid September to mid October – is the time to visit Vermont's Mad River Valley. Early fall frosts begin to come down from the north, turning the leaves on the trees and bushes from their youthful and verdant greens into those oh, so-photogenic oranges, yellows, reds, and browns that have helped make Vermont so famous.
Read the rest of this page »
March 14, 2015 by Corey A. Edwards
Born in Warren, Vermont, the Mad River Rocket Sled has gone from humble beginnings to becoming the foundation of a popular, new winter sport: back-country sledding.
The allure of the great outdoors – no matter the season – can be particularly hard to ignore when you live somewhere as beautiful and appealing as Vermont's Mad River Valley and outdoor recreation is a great platform for creativity. It's how so many of our favorite, outdoor pastimes came to be. That's certainly true of the Mad River Rocket!
Read the rest of this page »
February 28, 2015 by Corey A. Edwards
December 13, 2014 by Corey A. Edwards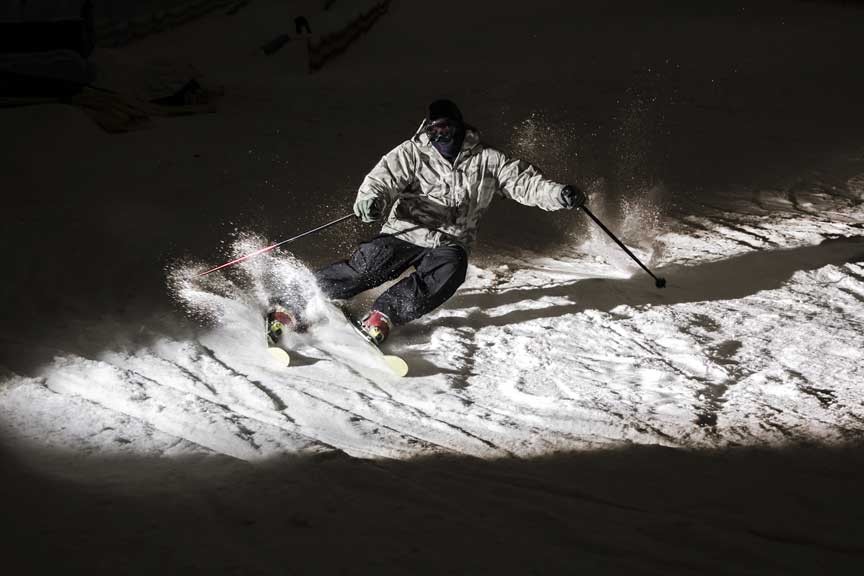 What do snowshoeing, skiing, Mad River Valley's Sugarbush resort, and winter's beautiful, moon-lit, night sky have in common? Tour de Moon, of course!
Tour De Moon is the brainchild of Sugarbush resort and involves a snowshoe hike up Mount Ellen to Glen House – the mid-mountain lodge – for a hearty, skier's drinks and dinner, then strap on the skis and glide back down the mountain – and all of it under the beautiful, warm glow of winter's full moon!
Read the rest of this page »
November 16, 2014 by Corey A. Edwards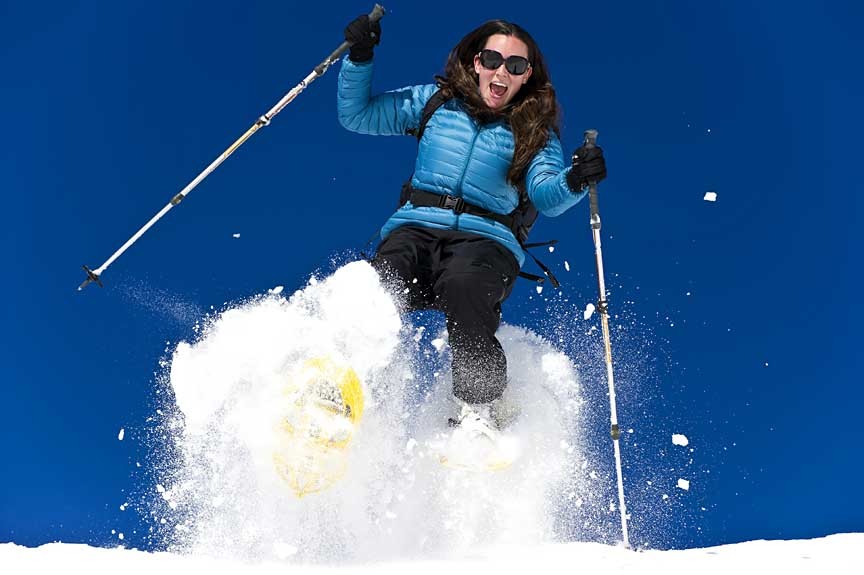 With all our recent talk about skiing, you might think that's the only popular winter sport around here but au contraire, mon frere! Mad River Valley snowshoeing is also a popular winter activity!
Snowshoeing has existed for time out of mind and, like skiing, evolved into a leisure-time sport out of a need for traversing fields of snow with greater ease. As a winter sport, snowshoeing extends the hiking season into winter and combines a good, low-impact workout with a more contemplative way to enjoy those snow-blanketed woods and fields.
Read the rest of this page »
September 27, 2014 by Corey A. Edwards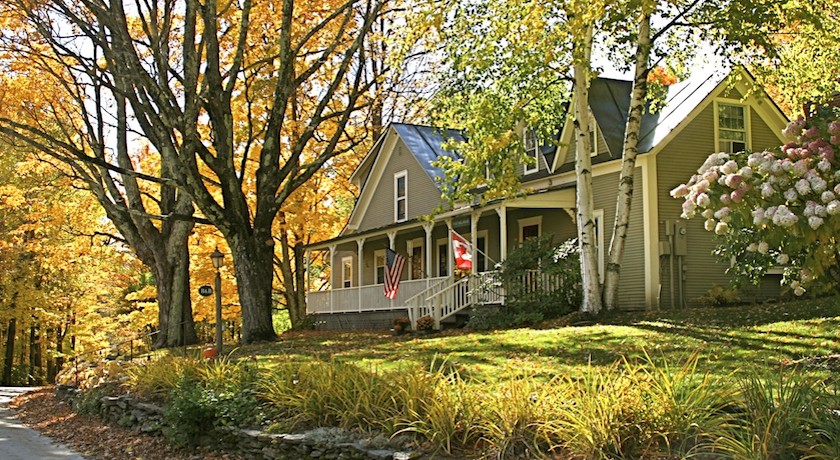 There is no reason that your Vermont vacation should be ordinary or break the bank and that's why we here at West Hill House B&B have put together a number of Mad River Valley Lodging Specials designed to make your stay both affordable and unforgettable!
West Hill House B&B offers Mad River Valley Lodging Specials and Packages throughout the year, the most timely of which is our Leak Raving Special.
Read the rest of this page »
August 30, 2014 by Corey A. Edwards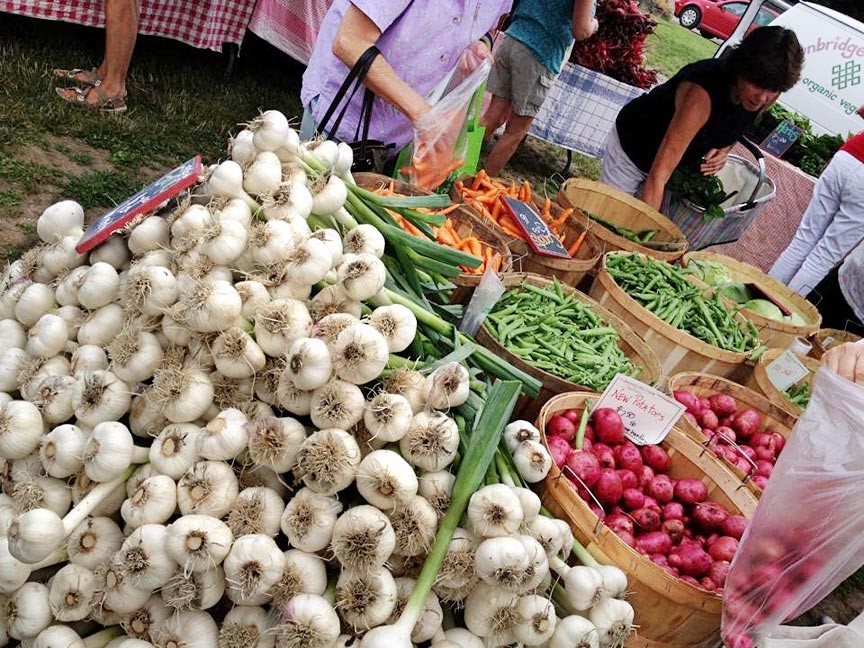 If you like the idea of locally grown and prepared foods, plus a community-oriented, carnival-like atmosphere, then you'll love the Waitsfield Farmers Market!
Farmers markets seem to be on the rise of late and that's a good thing. Sustainability begins with locally grown and prepared food, as well as other goods, and a farmers market fosters a greater sense of community between growers, artisans, and their clientele – all of whom are likely neighbors!
Not to say that "outside" visitors aren't welcome to the Waitsfield Farmers Market. On the contrary! A sense of local pride that wants to be shared is part of the farmers market dynamic – and what better way to share said pride than by sending the results of your hard work home with someone from a different town, state, or country?
Farmers markets are a fun and colorful way to buy fresh and locally produced food – or even things like crafts and flowers. It's also a great way to get to know a community, as farmers markets, by their very nature, provide a very authentic atmosphere.
The Waitsfield Farmers Market is located on the Mad River Green in Waitsfield, Vermont and runs from the middle of May through the middle of October. One of the best farmers markets around, the Waitsfield Farmers Market offers fresh produce, flowers, seedlings, honey, wool, eggs, locally and humanely raised meats, cheeses, maple syrup, vegetables, and many other farm products. There are also Vermont-made fine art and handcrafts, Vermont cider and beer, baked goods, and prepared food. Better yet, every Saturday features a different offering of live entertainment provided by local musicians so you can tap your toe as you shop. There's even free wifi!
Farm fresh produce and meats, prepared foods ready to be eaten, handmade crafts and local art, live music … all in all, perusing the booths at the Waitsfield Farmers Market is a great way to spend a Saturday morning in Mad River Valley!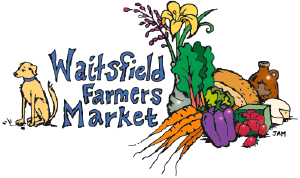 Waitsfield Farmers Market
Saturdays from 9 to 1pm
mid-May to mid-October
Mad River Green
Waitsfield, Vermont
www.waitsfieldfarmersmarket.com
Mad River Valley Lodging
West Hill House B&B is a strong supporter of farm fresh food, sustainability, and the local, Mad River Valley community. Earlier this year we became involved in the Muddy Boots CSA program because of this commitment to ourselves, our community, and, of course, to YOU, our guest! We're proud to be able to offer farm-to-tummy produce when we can in our breakfasts and other treats.
Stay at West Hill House B&B for an exceedingly comfortable and guilt-free, certified "Green Hotel" experience – and be sure to visit the Waitsfield Farmers Market for more of what makes the Mad River Valley the special place it is!