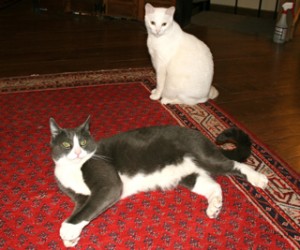 How do you spell relaxation? Many of our guests know the answer. Arriving at  the B&B for a bit of  a break from their hectic schedules they get themselves settled into their room then come looking for Smoky and Snowball. Being most friendly and obliging, our two cats offer their backs for scratching and provide loud purrs of appreciation and more scratches brings louder purrs. It isn't long before guest and invited cat are happily ensconced in a comfy chair enjoying each others company. How do Snowball and Smoky know when we humans need to slow down and  take a few deep breaths?
For many a guest, relaxation starts with not wanting to disturb the slumbering feline so there they sit, giving our cats a little TLC whilst in return they are given the gift of a few minutes to be calm and unwind.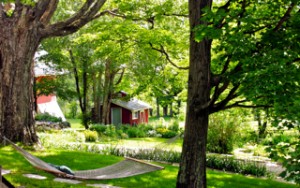 At that moment nothing is more important than quiet relaxation with a new found friend. So how do you spell relaxation? C-A-T!
West Hill House B&B is a great place for relaxation even if you are not a C-A-T lover. How about a seat down by the beaver pond or a nap in the hammock?
The weather's great and the garden is busting with color,  Memorial Day weekend is just around the corner – it's Open Studio Weekend too. We still have availability for the long weekend. Come and Relax!