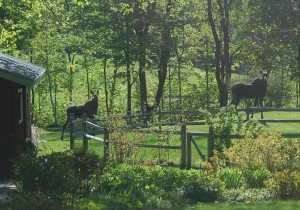 One of the frequent questions guests ask us at West Hill House, is can they see a moose? As many of the roads nearby feature large signs that say "Moose Crossing", it is a natural question.
In general moose, despite being very large, are shy and keep out of sight. So during our more than four years at West Hill House only a handful of our guests have actually had the opportunity to see one, and we have seen them near the property only twice. Also, fortunately, so far none of our guests have encountered one in the middle of a dark road while driving here, which can be a devastating experience, with the car and occupants often coming out on the worse side of the incident.
Having said all that, this May during breakfast all of our guests were treated to the fascinating sight of a mother moose and her offspring sauntering across the meadow behind the barn. Therese was quick off the mark with her camera and very kindly sent us the photo featured here. Click the photo for a larger image.