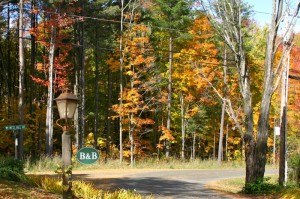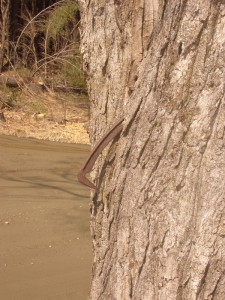 Last week West Hill House lost part of an old friend. Our Sickle Tree dating from before the Civil War was deemed unsafe and had to be largely removed.
A Sickle Tree illustrates the tradition of farmers hanging their sickle in a tree on the property when they went off to war, then retrieving it on their return – if indeed they did. While we have no specific records we assume it was a member of the original Allen family who had the house built around 1856 who never returned to resume work on the farm.
Since we bought West Hill House in 2006 Adam Whitney of Whitney Tree Service has been carefully pruning dead limbs. As you can see on the right of the top photo the tree has not been in good shape for many years. However when Adam inspected it this year he advised that the tree was largely dead and was being dramatically weakened by various fungal growths. So as the tree is right beside West Hill Road and there was a danger that it could fall across the road at any time, we took the difficult decision to have it largely cut down.
The base of the tree up to the fork where the sickle was imbedded has been retained, so the history is preserved even if the grandeur of the original tree has now been lost.
Of course the property still has many maple tree that date to the same era and probably earlier, that still surround the house on the east and south sides, as well as on the north side of the barn.
You can see more photos on our Facebook Page, and many photos of the maples tree on and near the property in the fall in our photo albums.