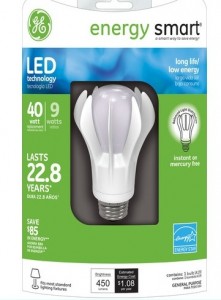 LED light bulbs are the promise of the greener future.  We have for some time used LED bulbs outdoors for low intensity flood-lighting and for light strings to mark our front parking lot and highlight our gazebo, but never for mainstream use as real lightbulbs!
Well it seems times have changed.  GE is now selling the bulb shown here, which looks very like the real thing!  Quite uniquely it spreads light omni-directionally, a real breakthrough for LED bulbs.
So West Hill House burnished our Green Hotel credentials and bought 4 of these yesterday.  (Peter is also Scottish so the deal from Lowe's at only $14 each really swung the decision – most places list it for more than twice that much.)
Given the hype about LEDs you will be surprised that the efficiency is only about 50 lumens per watt, i.e. 450 lumens for the 9W rating of the bulb.  A 14W CFL produces about 900 lumens for about 65 lumens per watt, so contrary to expectations LEDs are still less efficient.
However how about actual results?  We are amazed at the bright white omni-directional light, which gives the impression of more than a 40W incandescent equivalent bulb.  Then there is the 23 year lifetime and no mercury to worry about when they do need discarded.  Plus it looks like a light bulb – not a twisted tube! AND it comes on full brightness instantly.
So maybe not quite the time to plan a wholesale replacement, but viable LED bulbs are definitely on the near horizon!  We'll be pleased to show them to you next time you stay.