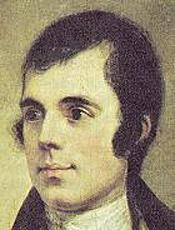 On January 26th 2013 we will be holding our 5th annual Burns Supper at West Hill House to celebrate the 254th anniversary of the birth, on January 25th 1759, of this great Scottish Poet, often referred to as "The Bard". (Bard is a Scots word for a poet.)
A Burns Supper is a significant tradition in Scotland and among Scots around the world. The evening will consistent of traditional Scottish fair including Haggis (which really is worth trying!) and Scottish Trifle. Wine will be served with dinner and a wee dram of Scottish whisky will be served  to toast The Bard (for those 21 and older; soft drinks will also be available).
The Haggis will be piped in by a local piper and will be addressed in the traditional manner by Peter:
Fair fa' your honest, sonsie face,
Great chieftain o' the puddin-race!
Aboon them a' ye tak your place,
Painch, tripe, or thairm:
Weel are ye wordy of a grace
As lang's my arm. …
We will then encourage you to try some Scottish Dancing after dinner – we'll show you how!
The Burns Supper will be held in our handsome Red Barn and we have room for only 30 guests. We expect a sell-out so don't wait till the last minute to book. Tickets must be purchased by January 21st.
The Burns Supper is just $50 per person (including tax), and it is sure to be a memorable evening. Book two nights including the 26th and we will include the supper at the reduced rate of $80 per couple. Advance reservation is required for all tickets.