The Times They Are A-Changin'. Bob Dylan's words were written over 50 years ago in 1963 and they continue true today. The changes we are talking about here though are not political, but environmental and technical! We are a certified Green Hotel in a Green State and each day we work to make our hotel more sustainable and environmentally friendly.
On December 16th 2014 West Hill House B&B launched a new accommodation category, which we are calling a "BEB", or Beds, Electrons & Breakfasts! Read on for details…
Green Hotels in Vermont
Here in Vermont, the Green Mountain State, we are at the leading edge of environmental practices. Electricity used in Vermont has probably the lowest carbon footprint of any state, with a major proportion coming from hydro-electric generators and now an increasing proportion from solar arrays. And the approach to green practices is very comprehensive, including encouraging energy efficiency, recycling, composting and using environmentally sound practices for agriculture and domestic needs. As part of this effort, West Hill House B&B has been a Green Hotel in the Green Mountain State since 2008 and we have continued to invest in and utilize green practices both before and since that date. Learn more about it!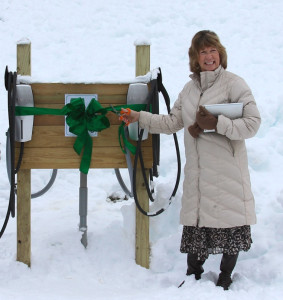 On the transportation side, Vermont residents have been leaders in moving to plug-in hybrid and all electric (EV) cars to reduce their carbon footprint when traveling. The use of electricity as a source of power is particularly environmentally friendly in Vermont given the low carbon footprint of the power sources. In addition to a large number of plug-in hybrids, like West Hill House B&B's own plug-in Prius, there are now over 800 EVs registered in the state of Vermont.
So back to December 16th. Over a year ago we installed a 240V 20A Level 2 charging point for EVs of overnight guests, which we also use for the B&B's plug-in Prius. A few guests have used it, however, we realized that most EVs on the road today simply can't drive here from home if they are out of state—as the vast majority of our guests are—because of the limited battery range.
Charging Stations Available at B&B
Not so for Tesla owners; when fully charged their vehicles have a range of around 250 miles. We thus took the opportunity offered by Tesla Motors to work with them to install two high power 240V 80A chargers specifically for Tesla vehicles.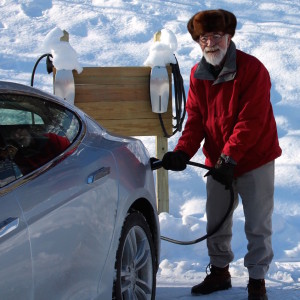 Each of these can fully charge a suitably equipped Tesla Model S in about 4 hours.
We were delighted to welcome Vermont Commissioner of Tourism and Marketing Megan Smith who cut the ribbon on December 16th to formally launch this capability, the first B&B in Vermont to offer dedicated Tesla charging for guests. (Two larger hotels in the state also offer this service.)
Best Hotel for Tesla Owners
Now Tesla owners, for example from the metro areas around Boston (190 miles), Montreal (140 miles) and New York (300 miles with a top-up en-route from the complimentary Tesla Supercharger in Albany), can drive their Tesla to Vermont's beautiful Mad River Valley and enjoy all the area's attractions, including Sugarbush next door to us, one of the premier ski and golf resorts in the north-east, while enjoying our hospitality at the top rated B&B accommodation in the area as per Trip Advisor. (Future Tesla Superchargers are planned for Vermont and New Hampshire.)
And, of course, the electrons are on us! We shall hope to see you and your Tesla here soon.