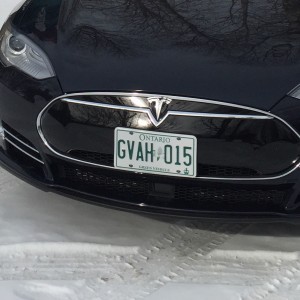 What "range anxiety"? On March 19th we welcomed Matt and his Tesla Model S85D at West Hill House B&B. Matt was making his inaugural trip in what is apparently the first 85D model—all wheel drive—delivered to an owner in Ontario, and perhaps in Canada.
Canada you say?  Yes, Matt lives in Toronto and he is heading to Boothbay Harbor in Maine. With a little bit of planning this is now an easy trip to make in a Tesla, with of course an overnight stop at our BEB—bed, electrons and breakfast!  You can read on our earlier Blog all about the official opening in December of our Tesla fast charging facility for our guests.
Matt contacted us at the beginning of February.  At that point he was awaiting imminent delivery of his Tesla Model S85D, and he told us he had plans to be a guest at a wedding in Maine on March 21st.  So what could be a better first road trip for his new wheels?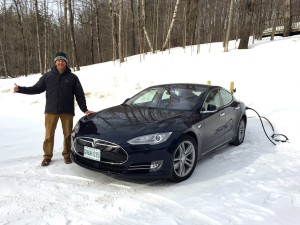 After checking the Tesla website he realized that our BEB was the perfect half-way stop-over point for his two-day trip. The Tesla Supercharger in Cornwall made for an easy drive to West Hill House B&B, and the next day the recently opened Supercharger at Hooksett NH could give him an electron boost on his way from us to his final destination.
His visit was also really exciting for us: a first opportunity to see the new all-wheel drive Tesla.
Not only that, but Matt gave Peter a short ride, and during that headed up a steep snow covered side road with no problem—we could have been in a Subaru, except it was all so quiet!
So the secret is out. "Have Tesla, can travel!". With the greater than 200 mile/320 km range of the Model S85 even in winter (up to 275 miles/440 km in summer for the Model S85D), with the Superchargers in Canada (there is also one in Montreal by the way) and all over the US, there is no reason not to explore the country with your Tesla.  And now with all-wheel drive, even Vermont's back roads are fair game!
A warm welcome, and lots of complimentary electrons, await you at West Hill House B&B – oops sorry, that is BEB! We can also help you plan a multi-desination road trip with overnight stops at other Select Registry BEBs. We shall hope to see you, and your Tesla, soon.