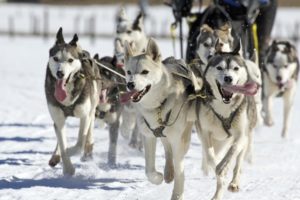 Go beyond the ordinary during your winter vacation this year with an exciting Vermont dog sledding adventure!
Vermont's Mad River Valley offers a wide variety of excellent winter sports opportunities. From alpine and cross-country skiing to snowshoeing, snowboarding to rocket sledding, there's something for everyone here.
One of the less common winter activities that you simply have got to experience is dog sledding. And yes: you can do that here, too!
October Siberians has provided Vermont dog sledding adventures for over 20 years – and only 30 minutes away from our Vermont B&B! October Siberians trains and breeds their own stable of friendly and energetic Siberian Huskies. These hard-working dogs are as eager to get out in front of the sled as you are to get on it – maybe even more so!
When you book a sled dog adventure with October Siberians, you're getting more than just a passive ride through the woods. October Siberians' sleds are designed for two drivers. The passengers enjoy the ride in a sled bag and blanket while the mushers direct the sled and dogs. This means you'll have an opportunity to experience driving the sled, if you wish.
Your two-hour sled dog tour will take place in Waterbury, Vermont's Little River State Park. It can be a gentle ride around the historic park or a full-bore, downhill dash. It's up to you! October Siberians' dog sleds can comfortably accommodate up to a family of four with two young children. What a great way to get out into Vermont's natural winter beauty!
Dog sledding, like any outdoor winter pastime, means you can get cold and wet, so be sure to dress appropriately. Layers are key, from head to toe, starting with some good, thermal underwear and topping it off with a stocking cap. Bringing along a thermos of something warm to drink is a great idea, as well.
Vermont Dog Sledding Adventure
West Hill House B&B would be more than happy to book your Vermont dog sledding adventure for you. All you need to do is let us know of your interest ahead of time. Dog sled experiences are weather dependent and, consequently, limited in availability so the more warning, the better.
West Hill House B&B is eager to act as concierge for any of your Vermont getaway plans. We may even have suggestions for activities that you were unaware of! Let us help to make your Vermont getaway the very best it can possibly be – see you soon!