As we look out the windows at West Hill House B&B during the winter months, we are thankful for the beautiful snowfalls, the ski areas and the great outdoor activities the local mountains and surrounding area offer.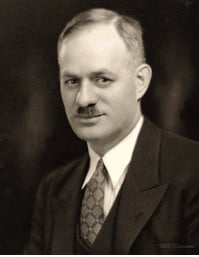 While one man may not be able to move a mountain he surely can shape what happens on a mountain. Perry Merrill (1894-1993) is often called the "the father of Vermont's State Parks and Alpine Ski Areas…Merrill was the Vermont State officer who could lease State land…". (The History of Vermont Skiing by Jeremy Davis). It was Merrill who seems to have put Vermont on skis. With his help, Vermont received workers and money as part of  government project know as the Civilian Conservation Corp (CCC). In the 1940s, the CCC was responsible for building ski rails in Vermont which were the foundation for much of today's ski industry.
Vermont currently boasts some 15 major ski resorts as well as a number of smaller ski areas. Suicide Six, near Woodstock, VT., was the earliest resort opened in 1934. Others, including Mad River Glen- Ski It If You Can – and Sugarbush Resort – Be Better Here – both here in the Mad River Valley, were not far behind. Once night  temperatures fall to freezing, mountain resorts start snowmaking to provide base coverage then Mother Nature takes over. It is not unusual for Sugarbush to record 300″ (7.62m) or more of snow in a good winter.
Local area cross-country groomed trails can be found at Blueberry Lake Cross Country Center offering about 21 miles (35km) of trails for skiing and snowshoeing while Ole's Cross Country Center offers 30 miles (48km). Both of these areas are but a few minutes from West Hill House B&B  which offers Ski & Stay packages.
Ski areas not only offer great outdoor activities for residents and guests alike, they are also the home of ski academies such as the Green Mountain Valley School just minutes from both Mad River Glen and Sugarbush and West Hill House B&B. These schools have produced national, olympic and world champions including Warren, Vermont, native Drew Duffy who stunned the ski world with a win in March 2015 when the 21 year old beat World Cup, World Champion and Olympic medalists to win the U.S. Alpine Super-G title at Sugarloaf in Maine.
Skiing, sledding, snowboarding, cross-country skiing, snowshoeing, telemark skiing, adaptive skiing, fat-bike riding and hiking are all available in the beautiful wintery Mad River Valley.
So, with good snow conditions and activities for every skill level, the Mad River Valley is the place to be. Come enjoy it – you can!