A covered bridge is what most folks picture when they think of a bridge in Vermont, however, Vermont is home to newer, unique bridges which employed advanced technology during the construction process.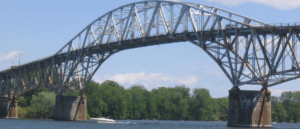 The original Champlain Bridge, commonly referred to as The Crown Point Bridge, was the was a major route connecting Vermont and New York at Chimney Point, Vermont and Crown Point, New York. The bridge opened in August 1929 as a toll road and was closed in October 2009 due to concerns that it might collapse. About 3,400 drivers per day used this bridge in 2009.  The bridge was demolished by controlled, explosive demolition on Dec 29, 2009 and the demolition was watched by thousands of people via a location web cam. Only problem was, it was a snowy and foggy day so the viewing wasn't terribly clear. Check out the video of the demolition. Read on to see what replaced this bridge.The cleanup of debris and plans for a new bridge were underway immediately. A 24 hour-a-day ferry service was put into place to keep traffic flowing as work began on the new bridge. As a result of the unprecedented collaboration between the partners involved in building the new bridge along with the leadership of the Govenors of New York and Vermont, the new bridge was open for traffic on November 7, 2011,  just two years after demolition rather than the initial eight year projection. This wonderful news was greeted with elation from all who counted on this critical link and were a little tired of taking the ferry.
The new Lake Champlain Bridge, still referred to as The Crown Point Bridge, is an amazingly graceful Network Tied Arch Bridge, a steel structure with an arch along the center span.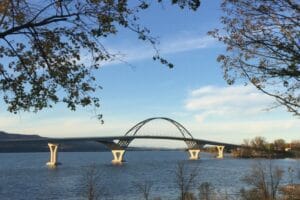 The arch is eight-stories high, 402-feet long, 1.8 million pounds and was constructed at Velez Marine in Port Henry. The center span was floated down the lake and lifted into place upon its completion on August 26, 2011.  Building the arch on land was much faster, easier and cost-efficient than trying to safely build the arch high in the air above Lake Champlain. You can see a timelapse of this operation here.
The bridge's design makes it significantly safer than the previous structure and is said to ensure at least a 75-year service life. Key bridge components are designed to be easily replaceable to reduce maintenance costs. Travel lanes are 11 feet wide, with five-foot shoulders that will help accommodate larger trucks and farm vehicles, as well as provide ample room for bicyclists. Sidewalks are featured on both sides of the bridge.
If you are planning a trip to Fort Ticonderoga, NY, traversing, photographing, and admiring this bridge is a must.