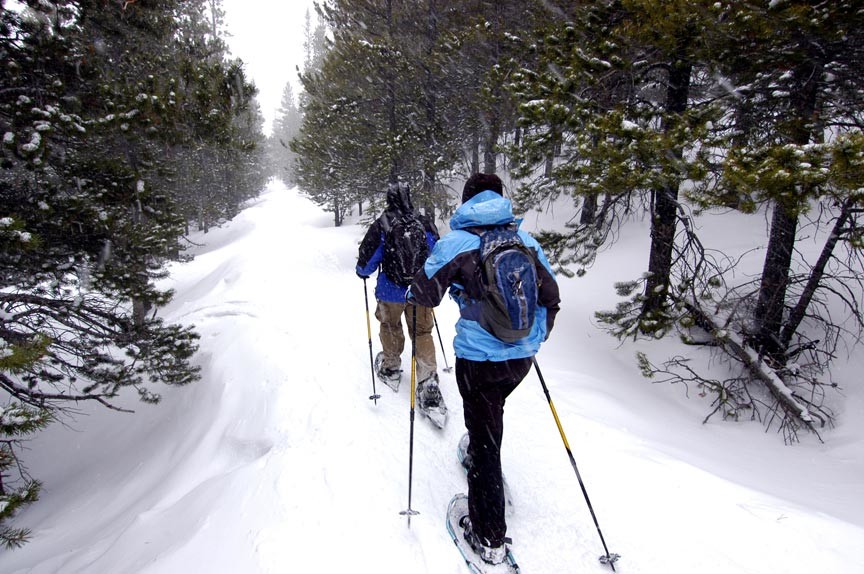 If you haven't been on a snowshoe tour in the Mad River Valley, you're missing out on one of the more relaxing winter experiences Vermont has to offer.
It probably goes without saying but, if you're a hiking enthusiast, you'll love snowshoeing. On skis, it's about the ride while, on snowshoes, it becomes more about your surroundings. There's something magical about entering the woods when they're blanketed with snow and enjoying them with a more contemplative and low-impact pastime.
Snowshoeing extends the hiking season and the popularity of this age-old sport is on the rise. Our Vermont bed and breakfast is right off the Catamount Trail, so we keep snowshoes on hand for those who want to go exploring the immediate neighborhood.
For those looking for something a little more organized, Vermont's Mad River Valley offers a wide variety of snowshoe tour options.
When it comes to taking a guided snowshoe tour, our first recommendation is always Clearwater Sports. Clearwater Sports offers a number of guided snowshoeing tours. They have guided backcountry snowshoe tours that will take up Burnt Rock Mountain or the eastern flank of Mount Abraham on the Catamount Trail. What a great workout!
They also offer "full moon" and "headlamp" snowshoe tours that include dinner and s'mores around a campfire. Snowshoeing at night with only the light of the full moon or a headlamp to guide you is an experience like no other – a real must. Clearwater Sports even has a maple sugaring snowshoe tour. You'll learn all about the maple sugaring process, history, and region while snowshoeing through a beautiful beech, hemlock and maple forest to a sugar house. Fascinating, fun, and even a little delicious!
Part of what makes our Vermont B&B so convenient is that we're neighbors with Sugarbush Resort. Now, you likely know of Sugarbush because of their great skiing but they also offer some wonderful snowshoeing tours. Guided outback snowshoe tours, twilight tours, and photography tours are all on the menu. Sugarbush even offers a self-guided snowshoe tour. Great variety from a beautiful resort right next to your lodging!
Mad River Valley Snowshoe Tour Options
Clearwater Sports and Sugarbush are not the only games in town, just the first two that come to mind. There are lots of different places to go snowshoeing in our neck of the woods. Most offer rentals and many guided tours.
Clearwater Sports – clearwatersports.com – 4147 Main Street, Waitsfield, VT
Sugarbush Resort – www.sugarbush.com – 102 Forest Drive, Warren, VT
Mad River Glen – www.madriverglen.com – 57 Schuss Pass Road, Waitsfield, VT
Ole's Cross Country Center – www.olesxc.com – 3255 Airport Road, Warren, VT
Blueberry Lake Cross Country and Snowshoe Center – www.blueberrylakeskivt.com
We here at West Hill House B&B love to help our guests experience the natural beauty of our area. Let us know what kind of snowshoe experience you're after and we can help you choose the right provider!