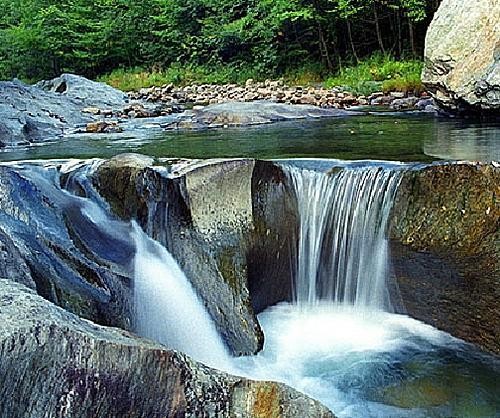 One of the best ways to get acquainted with our picturesque area is on a self-guided Vermont waterfalls driving tour. There are a number here in the Green Mountains, conveniently close to our Mad River Valley B&B. So come on along – the tour's just beginning!
There's something undeniably attractive about a cascade of water. Beyond the negative ions, which are generated by the flow and have a proven positive effect on our moods, the sight of a waterfall is naturally soothing.
The white noise generated by the falls; the feel of the cool spray on your skin; the smell of the water on the air. Combine these with the hypnotic sight of water splashing down over rock and crevice and it adds up to a simple yet very pleasant experience.
Vermont waterfalls are some of the most beautiful you will see (though we may be biased) and the scenery along the way is nothing to sneeze at, either. This is especially true when the Appalachian Gap is part of the tour – but enough yapping! It's time to get on with your self-guided, Green Mountains loop tour of Vermont waterfalls!
Self-Guided Loop Tour of Vermont Waterfalls
Warren Falls
Let's start off from our Vermont B&B, West Hill House, here in Warren. That means taking West Hill Road to Route 100 and turning right.
We'll follow this for about 2.5 miles (3.5km) until we reach a parking area on our right. Here, a path will take us to a beautiful series of cascading pools: Warren Falls! This set of falls and its swimming hole are popular on warm, dry days. When it's muddy or icy, however, Warren Falls may be worth skipping, and if the parking area is closed or full please do NOT park on the road, as it is dangerous and you may get towed.
Granville Notch and Moss Glen Falls
After Warren Falls, we'll continue along Route 100 for another five miles (8 km). This will take us through Granville Notch and the Granville Gulf watershed.
Just over a mile (1.6kms) past Granville Notch, on our right, we'll reach the parking area for one of the most scenic Vermont waterfalls: Moss Glen Falls. You'll want to get out for a closer view of the water as it tumbles down to the pool below but, for your own safety, please stay on the boardwalk! This narrow, rocky gorge is too treacherous for safe rock climbing or swimming.
Texas Falls
Now we'll continue south along Route 100 for another 7 miles (11 km). This will take us through Granville and on to Hancock.
Take a right onto Route 125, then follow it for 3 miles (5 km). Now another right on Texas Falls Road to enter Green Mountain National Forest and you're at Texas Falls!
This is a great place to stop for lunch or a snack, with picnic tables just up from the falls. The bridge and paths around the falls provide excellent views of the cascade but can be slippery, so use caution.
Middlebury Waterfall
Now we'll continue along Route 125 for another 13 miles (21 km), turning right onto Route 125N and 7N on our way to Middlebury.
Middlebury Waterfall is located in the center of town, tumbling over a sheer drop just below the Route 125 bridge in downtown Middlebury. There's a footbridge located just below the falls you shouldn't miss.
Middlebury, itself, is one of Vermont's most picturesque towns. Middlebury College is here, along with lots of shops, restaurants, hiking, biking, and arts events throughout the year. If you have the time to see more than the waterfall, we recommend it!
Lincoln Gap (open May – October)
We'll exit North out of Middlebury on Route 125N and 7N for around 3 miles (5 km) before taking take a right onto River Road. After 5 miles (8km), River Road merges onto Route 116 – and an opportunity to stop in for a tasting at Lincoln Peak Winery!
(If you are planning on making this stop, let us know. We sell Lincoln Peak Winery wine glasses at West Hill House B&B and, if you have them with you when you stop in, you'll get a free tasting.)
Keep left on Route 116 as we head north for 2 more miles (3km) before making a right onto Route 17/Route 116, towards Bristol. Bristol is another, quintessential Vermont town worth investigating. The Bristol Bakery alone, with its fresh coffee and treats, is motivation enough for a stop. Delish!
Now it's time to head back home. The most scenic and direct route back to West Hill House B&B is the Lincoln Gap Road, just north of Bristol.
Appalachian Gap
Heading home after such a great tour may be a bit of a downer – but not with the Appalachian Gap still ahead of us!
We'll continue along Route 17/Route 116 for another mile or so before taking a right turn on Route 17 and voila: we're on the scenic, winding roads of the Appalachian Gap. Nothing but the region's most stunning eye candy for miles.
… and home again …
Once we hit the Mad River Glen Ski area, 3 miles (5km) or so after turning on Route 17, we'll want to keep an eye out for German Flat Roads on the right. This road will take us past the Mt Ellen Ski area, and down to the "T" intersection of the Sugarbush Access Road. Turn right at this intersection, watching for Sugarbush traffic, and head towards the Lincoln Peak area of Sugarbush.
Now we'll take a left on Inferno Road and follow it for a mile (1.6km) to West Hill Road. Take a right and you're back to your comfortable and welcoming room at West Hill House B&B.
Self-Guided Vermont Waterfalls Tour
Vermont's Mad River Valley region is filled with wonderful things to do and see. We're lucky enough to live here and love nothing more than sharing it with our guests. If you have a particular interest or wish for your Vermont getaway, don't hesitate to let us know! We'll do our best to help guide you to the best experiences in the area. See you soon!