Vermont's Shelburne Museum is like no other.
The museum, tucked away on 45 rural acres, hosts a unique collection of collections. There are flocks of duck decoys and herds of hand-carved circus animals. The museum collections include French Impressionist paintings, American folk art, … and a crowd of taxidermied heads. One of the largest collections of hand-sewn quilts in the country is here, too along with a hurricane of weathervanes.
This and 150,000 other fascinating and beautiful objects make for a heady mix. The collections even include historic New England architecture!
25 of the museum's buildings, many of which display collections, themselves, were moved here as part of the collection. It's all very meta and a fascinating and instructive tribute to the transformative power of collecting.
Just south of Burlington, in the town of Shelburne, you will find 39 buildings filled to brimming with fascinating and beautiful objects.
The unparalleled experience that is the Shelburne Museum is all due to Electra Havemeyer Webb (1888-1960). Webb grew up wealthy in New York with parents who were important collectors of European and Asian art. She inherited this collector gene but, much to her parents horror, was more interested in collecting Americana than fine art!
Many of the things Webb collected have an undeniable quirky side but it is also quite clear that she valued craftsmanship and utility. Most of what she added to the collections have or had a practical use of some kind or another. One of her first purchases, for example, was a cigar-store Indian.
Webb founded the Shelburne Museum in 1947, initially to preserve her family's horse-drawn carriages. The project rapidly evolved to include her other collections, however. At opening, the museum already included 9,000 objects and filled 9 buildings!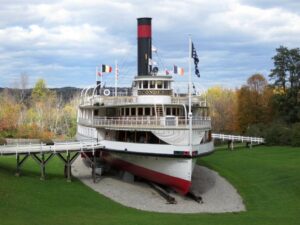 The museum's holdings continued to grow as Webb added entire collections and even buildings. Historic houses and barns were moved to the property. A meeting house, a one-room schoolhouse, lighthouse, jail, and a general store, too. She saved a covered bridge from demolition and drydocked the 220-foot steamboat Ticonderoga on a museum lawn.
By the time of her death in 1960, the Shelburne Museum had accumulated 60,000 objects. Today, the collections contain more than 150,000 objects!
Visiting the Shelburne Museum is a full day outing and very much worthy of your attention. Getting there from our Mad River Valley B&B in Warren, VT only requires a lovely, 1-hour drive on beautiful back roads.
Directions to Shelburne Museum from our Warren, VT B&B
From the Mad River Valley take Route 17 from the south end of Waitsfield over the Appalachian Gap to Route 7. Then take Route 7 north to Shelburne. The museum is at the south end of Shelburne on your left.
Attention Grandparents, Aunts, Uncles, Moms and Dads!
Vermont Teddy Bear is right across the road from the Shelburne Museum and the perfect opportunity to get a beautiful bear for that favorite youngster!
Shelburne Museum
5555 Shelburne Rd. Shelburne, VT – (802) 985-3346
Open 10 am to 5 pm daily, May 1 through October 31
Visit Shelburne Museum online for more information on current exhibits, programs, events, and current hours.
Lodging in Warren
West Hill House B&B in Warren, VT is the perfect choice for your Vermont vacation. We're mere minutes from skiing, golfing, shopping, exploring, and just about anything else you can think of in Vermont's gorgeous Mad River Valley. Come wake up to our delicious breakfasts, relax on our lush, quiet grounds, and take advantage of our Quaich Single Malt Scotch bar. Book your stay at West Hill House B&B today!