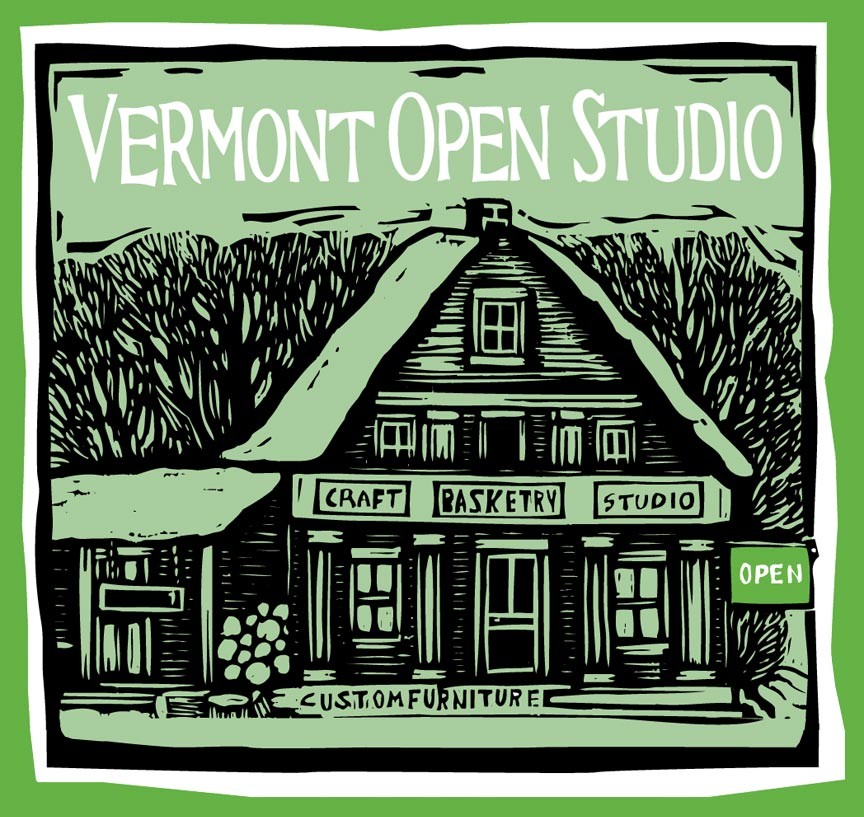 Get an inside look at the creative process of a variety of artists during Vermont Open Studio Weekend, a statewide celebration of the visual arts. May 27-28, 2017.
Vermont Open Studio Weekend is a biannual event, held in the spring and fall, in which artists across Vermont open their doors to the public for self-guided studio tours. Whether you're an artist yourself, or simply a fan of art, a visit to an artist's studio is a unique opportunity for insight and inspiration.
Artist's spaces reflect both the working personality of an artist and the processes they use to create their works. You'll see the tools they use, the experiments they have abandoned, and the things they use for inspiration.
Most artists will also be on hand, giving you an opportunity to meet and talk with them. Being able to buy directly from the artist always adds personal value to a piece! Along with meeting artists and buying work, many of the participating galleries will be hosting gallery talks and special exhibits.
181 artists are participating in Vermont Open Studio Weekend this year, representing a wide variety of arts. Along with painters and sculptors, the event also includes glassblowers, jewelers, printmakers, potters, furniture makers, weavers, sculptors, quilters, woodcarvers, and more.
Best of all, 22 of the participating studios and galleries are near our Warren VT area lodging, West Hill House B&B! A map with directions to the participating studios and galleries near us can be found here: www.vermontcrafts.com/OSW/washington.html.
Spring Vermont Open Studio Weekend – Central Region Guide
49 – Hillcrest Adirondack Furniture: Adirondack furniture, chairs, gliders, loveseats and porch swings.
50 – Vermont Floorcloths and Fiber Arts: Handpainted canvas rugs, hooked wool rugs.
51 – Stilbroke Farm Pottery: Functional, colorful, picturesque, stoneware pottery.
52 – Blackthorne Forge: Functional and sculptural, contemporary ironwork.
53 – Tracey Hambleton: Oil painting, landscapes, still life.
54 – L. Koehler Pottery: Majolica glazed terracotta earthenware.
55 – Studio Place Arts: Art center, galleries, studios, sculptures.
56 – Elm Harris: Custom and OOAK silver jewelry.
57 – Blue Roof Designs: Hand made books, artists's books, paper.
58 – May Day Studio: Quirky paper goods, letterpress, bookbinding.
59 – Annie Tiberio Cameron Photography: Photography, botanicals, abstracts, nature, wilderness.
60 – Green Mountain Hooked Rugs, Inc.: Traditional hand hooked rugs, classes.
61 – Kingfisher Forge: Blacksmith studio and hardware shop.
62 – Flint Brook Pottery: Handthrown, functional stoneware pottery.
63 – Ziemke Glassblowing Studio: Colorful contemporary blown glass.
64 – Jeremy Ayers Pottery: Colorful, high-fire, stoneware, pottery for daily use.
65 – The Mud Studio: Showing the work of 20 potters.
66 – Mad Women in the Attic: Fresh, original, metal and stained glass.
67 – Mad River Glass Gallery: Vast variety of unique art glass.
68 – Noel Bailey Ceramics: Functional high-fire porcelain.
69 – Luke Iannuzzi Pottery: Raku art and dinnerware sets.
70 – Moosewalk Studios and Gallery: Watercolor paintings, photography, and giclee prints.
71 – The Luminous Moose: Custom stained glass designs.
Phew – that's a lot to choose from!
Some folks prefer to visit only one or two studios or galleries of a specific type. Others enjoy seeing a wide variety of spaces. No matter which you'd prefer, West Hill House B&B happy to help you plan your trip to get the most out of your day. Book your stay at our Mad River Valley inn today!
Spring Vermont Open Studio Weekend
May 27th and 28th, 2017
Be sure to visit www.vermontcrafts.com for more details about Vermont Open Studio Weekend. The site also offers a free Vermont Open Studio Guide pdf with a map and directions to participating sites.