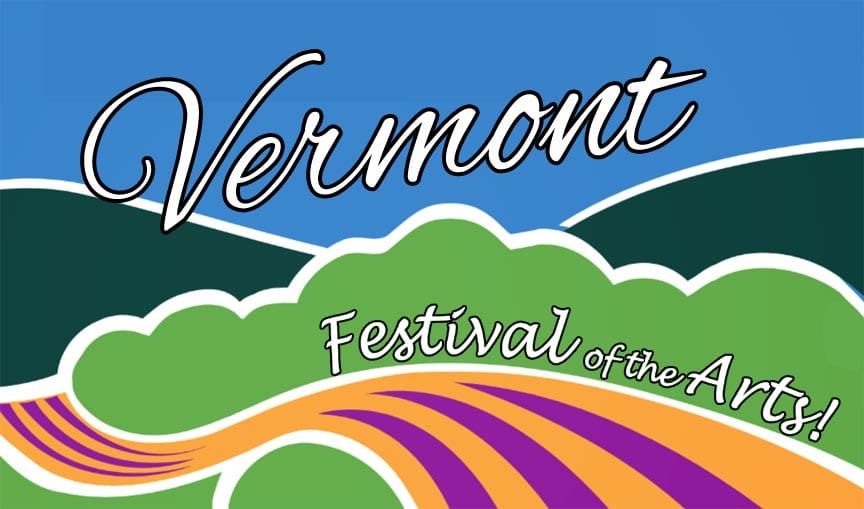 Vermont's Mad River Valley will be bursting at the seams with color, sound, and life August 1st through September 3rd, 2018 during the annual Vermont Festival of the Arts!
Every August, the Mad River Valley celebrates the Vermont Festival of the Arts with over 100 different events. There are performances, workshops, displays, and demonstrations of all kinds. It's a month-long, multi-media, pan-dimensional, cornucopia of art! In fact, there are so many events that a great number of them start in July.
We'd love to tell you about everything that is happening during the festival – but there simply isn't enough room! Instead, we'll post a few highlights and encourage you to check out the full Vermont Festival of the Arts program guide online.
21st Annual Big Red Barn Art Show
48 Lareau Rd., Route 100, Waitsfield
The annual Big Red Barn Art Show is a big favorite with art for everyone. Come see paintings and sculpture by more than 30
local artists. August 2–25, Thursdays through Sundays, Noon to 9pm. Opening Reception: August 5, 5pm to 7pm.
Great Vermont Plein Air Festival
Throught the Mad River Valley – Festival HQ: 20 Bridge St. (in the alley), Waitsfield
Meet and talk with artists painting in the great outdoors as they work to capture the Mad River Valley's undeniable scenic beauty. August 17–18, 9am to 5pm. Sidewalk Art Show & Sale: August 18, 3–5:30 pm.
TenFest 2018
4254 Main St., Route 100, Waitsfield
TenFest is a festival of ten-minute plays. The Vermont Playwrights Circle will present ten, ten minute comedies, dramas, and musicals – the best of all 97 previous years plays. August 16–August 18 at 8pm, August 19 at 2pm.
"Snapshots" Creative Writing Workshop
275 Main St., Warren
A month-long, creative writing workshop, led by David Haward Bain. This workshop will include both poetry and prose vignettes, exploring,
expanding and elaborating on small moments. David Haward Bain is a published author who has conducted writing workshops at Middlebury College since 1987. July 18, 25, August 1, 8, 2:30pm to 4:30pm.
Gary Eckhart Watercolor Workshops
200 Orion Rd. (off Lincoln Gap Rd.), Warren
Gary Eckhart is an award-winning artist whose paintings have been exhibited in numerous national shows.
Remove the Fear Factor – A one-day watercolors workshop exploring new and exciting ways to strengthen your approach through exercises and demonstrations. Some watercolor experience necessary. Advanced registration required: 802-583-2224. August 25, 9am to 4pm.
Taking Control – Learn how to take firm control of your materials and push your technique in this one-day class. Turn that initial image into a stunning painting! August 26, 9am to 4pm.
You Break It–You Make It
Bette Ann Libby leads this two-day mosaic shard workshop in her Waitsfield studio. Learn the design, application and grouting of ceramic shards for exterior or interior applications. August 13, 9am to 3:30pm (lunch included) & August 14, 9am to noon.
Vermont Festival of the Arts 2018
August 1st through September 3rd, 2018
For a full schedule of events, locations, tickets, and other details, please visit: valleyartsvt.com. As mentioned above, you can also view or download the 2018 Valley Arts schedule/brochure.
Mad River Valley Lodging
No matter what it is that brings you out to Vermont's Green Mountains, West Hill House B&B would love to be your home away from home. Our Warren area B&B is a certified Green Hotel, 100% solar-powered, and has four different EV charging stations. We also offer delicious breakfasts, lush, quiet grounds just across the road from the Sugarbush Golf Course, and a Quaich Single Malt Scotch bar. Reserve your room at West Hill House B&B today!