Shelburne Farm and Shelburne Museum are two of the great treasures of Vermont which offer an interesting insight into the past, present and future of the Green Mountain state.
Shelburne Farm-A visit to the farm is well worth your time. The grand structures including the family house, the Coach House, the Breeding Barn and the Farm Barn are sites to behold.  In 1886, Dr. William Seward and Lila Vanderbilt Webb began acquiring Vermont farmland on the shores of Lake Champlain to create a model agricultural estate. With the aid of well known landscape artist Frederick Law Olmsted, Sr. and architect Robert H. Robertson, a magnificent farm was created. By the early 1900s, the Webb's 3,800-acre farm was renowned for its innovative practices, hackney horse breeding enterprise, and grand family residence. Beginning around 1910, farming operations and other activities began to shrink, and subsequent generations struggled to find a workable future for this singular farm.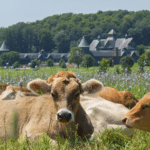 Shelburne Farms began a rebirth in 1972, when family descendants founded a nonprofit organization of the same name, dedicated to conservation education. For more than 45 years, the organization has offered educational opportunities for children of all ages to learn about sustainability and their connections to the natural and agricultural world. Today the farm is a 1,400-acre working farm, forest, and National Historic Landmark. It is a farm-based education organization engaging visitors in experiences to inspire and cultivate learning for a sustainable future. A future which involves practicing stewardship and caring for our natural, cultural and human resources.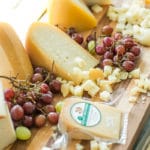 The 10th annual Vermont Cheesemakers Festival- will take place here on August 12, 2018 at the Coach Barn. Vermont is the premium artisanal cheese state with the highest number of cheesemakers per capita:  50 of them creating over 200 varieties of award winning artisan and farmstead cheese. The Vermont Cheesemakers Festival will have 45 cheesemakers offering cheese tastings, seminars and cooking demonstrations. As well there will be a variety of Vermont beers, ciders, and spirits on hand. Sample, buy and learn. Shelburne Farm is a beautiful one hour drive from West Hill House B&B. Ticket information…
Tours and special activities take place throughout the year.  Count on the good part of a day for this visit. For more information...
Shelburne Museum- A visit to this open air museum should be a 'must' on your summer calendar. Exploring the buildings, exhibits, gardens and grounds gives you a glimpse into the life of a very interesting and unusual woman. Electra Havemeyer Webb (1888-1960) was a pioneering collector of American folk art and founded the museum in 1947. The Museum includes 39 distinct structures, from locations in Vermont, on forty-five acres. The structures include a jail, barns, a one room school, a lighthouse, beautiful art,  and yes, even a steamboat!  Each structure has a theme and is filled with beautiful, whimsical and fascinating objects from dolls to duck decoys, tools to carriages, a miniature carved circus train to beautiful paintings, and much, much more.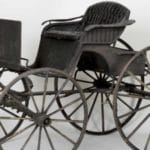 Special exhibits are throughout the year and this August the special exhibit is In the Garden which will feature fine art, textiles, jewelry, and the bodies of actual insects, this exhibition explores the various ways flowers and bugs have captivated artists' imaginations over the last five centuries. This museum is one of the finest, most diverse, and unconventional museums of art and Americana.
Count on a full day for this visit, or you to take full advantage of the price of admission, the ticket is valid for two consecutive days. For more information…
There is so much to see and do at each location that you should plan on visiting the Farm and the Museum on separate days.
A beautiful one hour drive from West Hill House B&B and about a 20 minute drive south from Burlington, Shelburne Farm and Shelburne Museum are two of our favorite Vermont attractions. We hope they will become among your favorites as well.