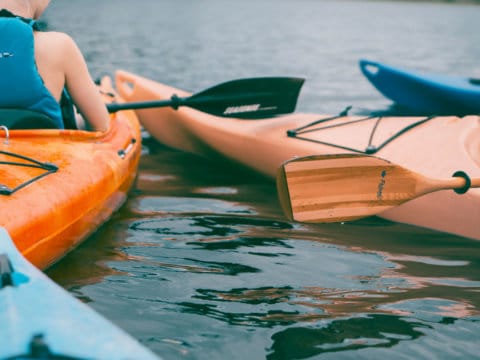 We're hard-pressed to choose our favorite Vermont season when they all offer so much. While winter and fall are very popular, we're here to let you know why Vermont summer activities should make your bucket list too!
So, what is there to do if you're not hitting the slopes or viewing the foliage? Where do we begin? Vermont is a rural paradise and the Mad River Valley is a gem of bustling small towns and a variety of activities.
Take in the Sights
A classic way to enjoy the mountains is to hit the trails. Hiking and biking networks cover our state and offer terrain for any level of experience.  Sugarbush, just up the road from us, offers mountain bike rentals for use on their many trails. You can also rent road bikes from Infinite Sports in nearby Waitsfeild.
Welcoming all thrill seekers! You've been in a plane but have you been in a glider? Fly above the Green Mountains with the wind as your motor. Sugarbush Soaring offers this unique experience from May to October.
Grab a paddle and kayak, canoe, or paddle board your way along the Winooski or Mad River. This is perfect on a hot day when you can simply hop into the water to cool down! You can rent equipment and book a guided tour from Clearwater Sports, located in Waitsfield.
Let's Eat
If you're interested in the history and culture of Vermont we highly recommend you do our Covered Bridges & Culinary Tour. Our personalized guide takes you to some of our state's greatest attractions like Ben & Jerry's and Cold Hollow Cider Mill and weaves in 8 bridges along the way.
Get Creative
The arts come alive in the Mad River Valley. August and early September are packed full of festivals from every medium.  See a complete guide of workshops, festivals, musical performance, plays and more for the entire 2018 year.
Hit the Turf
There are four beautiful golf courses located within an hour of our bed and breakfast, including Sugarbush Resort Golf Club right next door! Take a swing late summer and avoid the crowds of foliage season.
If you're looking for an unforgettable summer vacation, Vermont needs to be your destination. Book your stay with us now!